By CNN's Mairi Mackay
LONDON, England (CNN) -- If you were looking for someone to write a pithy satire dishing the dirt on the highs and lows of Hollywood, then A-list producer Art Linson would be a pretty good bet.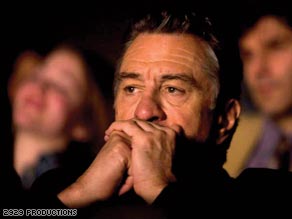 Robert De Niro stars as a Hollywood producer whose life is way out of control in "What Just Happened."
He's got 25 years working with Tinseltown's finest under his belt, and his film credits include "Into The Wild" and "Fight Club."
Now he's turned his hand to writing. First, a memoir detailing his experiences as a Hollywood producer, "Bitter Hollywood Tales From the Front Line." And lately, adapting the book into a screenplay for the film, "What Just Happened," starring another Hollywood veteran, Robert De Niro.
The film, which is directed by Barry Levinson, tells the story of two weeks in the life of a nail-biting middle-aged Hollywood producer who is desperately trying to balance a set of outrageous crises in his day job with an equally complicated private life. The film also features celebrity guest stars like Sean Penn and Bruce Willis mercilessly sending themselves up
CNN's "The Screening Room" caught up with Linson and De Niro and quizzed them about how closely the Hollywood represented in the film resembles the real Hollywood, how the book became a film -- and what it takes to get ahead in the business.
CNN: It's a great book -- what made you decide to turn it into a film?
Robert De Niro: Well, I read the book and I laughed through the whole book so I called Art and said: "Why don't we try and make it into a movie?" And that's how it happened.
Art Linson: Well, I will tell you how it actually worked. I said: "No, it's not a movie. It's just a book trying to let people see what it's like in this town." He says: "No, no, it's funny." And then he called again and we talked again and he says: "You should do it." And then he said: "If you do it, I'll do it," and then I went: "Okay, I'll do it."
CNN: How does the Hollywood represented in this film compare with the real life Hollywood?
AL: Well, we each have different points of view -- the way we see things -- but from my point of view it is just spot-on truthful. Sure, it's funny. Sure, it's preposterous. But funny and preposterous things happen in Hollywood all the time, and so does the treachery and jealousy and all the other things that would amuse people.
CNN: Obviously, both of you have had extensive experience in the industry from different points of view. How would you say the industry has changed, since the 1960s when you started? Do you think it has gotten easier, or tougher?
AL: Well, some things haven't changed at all and some things have changed profoundly. What hasn't changed at all is it's still hard to get movies made. It is still as hard to get movies seen and appreciated now as it was then. The stakes were high then, and they are now.
The difference now is that things cost a lot more, profoundly more, so before you could get away with making some movies that people didn't care about. Now, they have to perform well to justify themselves. That has made the slots of getting a movie made harder and harder. So, for those on the side of tentatively thinking: "Maybe this is going to be too tough for me," you are already out of the business.
RDN: The thing is that there are many more so-called independent movies being made today, which is good for people, actors and everybody else involved in films. So, that's all great. As I remember, in the 1960s and 1970s there were very few independent movies.
AL: But studios tried to make them and now they wouldn't.
RDN: Yeah, but you are saying it's also the money that it takes to put them out there.
AL: Yeah, but it's very expensive.
RDN: So-called, even independent films.
CNN: It's very interesting that you are talking about the stakes being very high. Do you think being able to make this movie, with a script that is so close to reality, shows how secure both of your positions are in Hollywood -- perhaps, even, that you are untouchable?
AL: You know, I don't think either of us, although he [Robert De Niro] may be close to untouchable. For sure I'm not, believe me, it just may seem like that. Everybody is on a different perch. But we did this because we thought it was sincerely funny and truthful, and we actually didn't think there would be too many thin-skinned people about it.
But there have been some that are, and there are many people in Hollywood that howl with laughter. It's being shown around the Bel Air home-circuit for everybody, because everybody can laugh at themselves. But you are right, it could be perceived as something bold to do, but I am not so certain about that.
RDN: No, it's not done in a mean-spirited way. Art has a great sense of humor and you see that in the whole story -- the whole film -- as you did in the book.
Don't Miss
AL: I think the courage of it at all, is to watch all these people who are profoundly successful and desperate, at the same time, to hang on. Their courage is that they keep going forward no matter how bad it gets. And, so, from my point of view, that's the thing I think I appreciate about people in Hollywood the most. I always like their courage. No matter how many times they get hit over the head with a hammer, no matter how many times they get thrown in front of traffic, they keep coming out like everything is fine.
CNN: Finally, for those young people wanting to get ahead, what do you think it takes to get ahead?
RDN: I think the most important thing I tell young actors about going for an audition is: "Don't worry, if you are meant to get it, you are going to get it. If not, you are not, so don't jump through hoops." Just be relaxed and free, do your thing and just don't care, because its not going to change anything, it will only make it better, because they will see more of you, who you really are, instead of trying too hard.
AL: Surprise.
RDN: Surprise or do anything. Don't constrict yourself, I think that's more important, in movies especially.
AL: The irony is sometimes, for me, from a different point of view, because I am not an actor, you sometimes see something in somebody that has nothing to do with what they were preparing. It's that thing that you kind of remember and it always surprises you, the reading might have been just modest, you know, but there was something special.
RDN: It's like, well, it reminds me of something we did together "This Boy's Life" and we had a bunch of kids reading, and Leonardo DiCaprio was there. There was another kid reading the part that Leo wound up doing in the movie, and we spoke and I said "Leo, this kid, has got something."
E-mail to a friend