(CNN) -- This year's final edition of "The Screening Room" comes from the beautiful city of Tallinn in Estonia.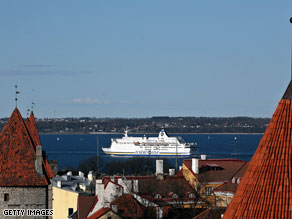 Estonian capital Tallinn, hosts one of the first film festivals to pioneer compeititions for movies made on mobile phones.
From this winter wonderland, host Myleene Klass attends the "Black Nights Film Festival," one of the first festivals to pioneer competitions for movies made on mobile phones.
Building a new state-of-the-art cinema complex in time to host the European Film Awards, Estonia today has 70 cinemas for its population of 1.3 million people.
Local productions account for about 15 percent of the Baltic box office, a figure which has risen dramatically in the past decade. Myleene talks to the founder of the film festival to find out how the rise has been accompanied by the film festival.
'The Screening Room' also joins Al Pacino for an acting master-class at the Rome Film Festival, and Oscar and Golden Globe winner Benicio del Toro talks about his compelling role in "Traffic" and his latest performance in Steven Soderbergh's epic, "Che."
E-mail to a friend