By Matt Carey
CNN
LOS ANGELES, California (CNN) -- Keri Russell, who stars in the new Adam Sandler comedy "Bedtime Stories," says her own son is a little too young to enjoy a story before bedtime.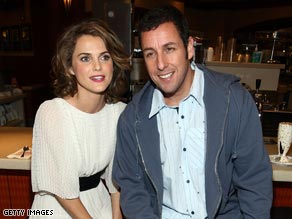 Keri Russell, here with "Bedtime Stories" co-star Adam Sandler, has a young son.
"He's too squiggly and little for that right now. He's a year and a half," Russell tells CNN.
She and husband Shane Deary have tried reading to their tot.
"We do read [him] books, and he has his favorites, but right now it's very much like 'Read this one, read this one.' And we read the first two pages, then he's like, 'and now this one.' I'm like 'But we haven't gotten to the best part! Let me finish.' It's a lot of that."
Russell and Deary named their son River, which she acknowledges is unusual.
"It was a name we like, and my husband grew up on Martha's Vineyard. It was a lot of sort of unusual hippie names, so we thought we could get away with it."
Other unconventional celebrity baby names include Bronx Mowgli Wentz (son of Pete Wentz and Ashlee Simpson), Apple Martin (daughter of Gwyneth Paltrow and Chris Martin) and Naviyd Ely Raymond (son of singer Usher and Tameka Raymond).
Don't Miss
Russell offers a reason why some entertainers choose distinctive names for their children: It's the nature of their work.
"It's an unusual life. I mean, so there tend to be creative people, and maybe people are more creative with their names, too," she says. "Or [they] feel like they don't have to be so confined to tradition because it's such an untraditional line of work."
E-mail to a friend

All About Keri Russell