By Hilary Whiteman
CNN
LONDON, England (CNN) -- Having a gun pulled on you in Sao Paulo would be a frightening prospect if you weren't walking the streets with Iron Maiden guitarist Janick Gers, and the gun-wielder wasn't an autograph-hunter... oh, and a policeman.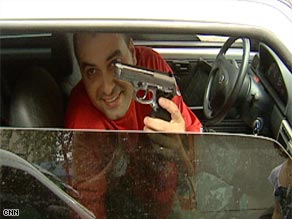 A man claiming to be a policeman shows the Revealed team his gun before requesting Janick Gers' autograph.
"I'm a cop," says the man, laughing and revealing a pistol.
Seconds earlier, he'd pulled up besides Gers and the Revealed production team in an unmarked car in a back street of Brazil's most populous -- and dangerous -- city.
"I want a picture. I am police."
After rummaging through his bag for his identity card, the presumably off-duty policeman produced a red leather biker vest which Gers duly signed in blue biro. The excited fan shook his hero's hand.
"He'll be arresting people at the concert," Gers laughs.
This is what life is like for Iron Maiden in South America, a hotbed of Maiden fanaticism.

Watch part one of CNN Revealed: Iron Maiden »
"In South America, it's like verging on hysteria," says Adrian Smith, one of the group's three guitarists.
"We got here to the hotel yesterday and there 2,300 people screaming. They were screaming up until sort of midnight last night. I could hear them chanting 'Maiden, Maiden.'"
"I woke up late today and I sort of stumbled down to the café because I couldn't get any room service. I just wanted a cup of coffee, you know."
"This is kind of fun for us," he adds, "but I almost feel sorry for people, you know mainstream celebrities, who can't go out anywhere, besieged all the time at their hotels all over the world I mean, it would drive me mad."
It's nothing short of astounding that after thirty years on stage and millions of album sales, Iron Maiden's band members enjoy a level of anonymity unheard of in the modern-day music scene.
It helps that they don't court the press and that the only face that has ever appeared on their album covers belongs to "Eddie", a ghoulish figure who started life as a theatrical mask. Read an interview with Eddie artist Derek Riggs
"He's the most outrageous and the biggest rock star there's ever been," says Iron Maiden's lead singer, Bruce Dickinson.
"And it's great because we don't have to be. We can just concentrate on doing what we do. The truth is we're not actually any of us interested in the rock star thing. We're very pleased that the paparazzi find us utterly, utterly uninteresting."

Bruce Dickinson talks about Eddie »
Iron Maiden started life in London's East End in 1975. Bassist Steve Harris brought together a group of like-minded musicians, including fellow guitarist Dave Murray. It was only after several rifts and a temporary break-up that the current line-up was assembled.
The band released two albums -- "Iron Maiden" (1980) and "Killers" (1981) -- before Bruce Dickinson replaced Paul Di'Anno as lead singer.
Dickinson's first album with the group -- "The Number of the Beast" (1982) -- went to the top of the British album charts. Drummer Nicko McBrain joined the group in 1983 and they released another album "Piece of Mind."
"Powerslave" followed in 1984, after which they embarked on one of the biggest tours in music history, the "World Slavery Tour."
More albums followed before Janick Gers joined the group in 1990, replacing Adrian Smith who left to pursue other projects.
Lead singer Bruce Dickinson also left for several years in 1993 but returned in 1999 with Adrian Smith to resurrect the old -- and present -- lineup.
"We're all a bit odd...all a bit eccentric one might say," Dickinson says, attempting to explain the group's longevity.
"If it weren't for Iron Maiden, none of use would have ever have met up; we all come from different backgrounds, different places, different locations. And we get together and it works because the one thing that puts us all together is Iron Maiden. It genuinely is like a family."
That sense of family extends to their crew and their legion of fans, all of whom have discovered the band through word-of-mouth and, latterly, the Internet.
"Iron Maiden has never relied on radio play or TV or the conventional forms of media that a lot of music bands rely on," says Sam Dunn, a documentary filmmaker and Maiden fan who's making a film of the group's "Somewhere Back in Time" tour.
"I think for the fans, that's what's most special. That it's still driven by that communication and that it's a community of fans, and we don't have to rely on the major media corporations to tell us that this is the music we should be listening to, we're listening to it because we want to."
The day after the gun incident, Iron Maiden plays to a capacity crowd at Sao Paulo's Palmeiras Stadium.
45,000 people brave the rain to hear the band belt out a catalogue of 80's hits: "Aces High", "2 Minutes to Midnight", and the 14-minute epic ballad "Rime of the Ancient Mariner."
"It's 2008 and Iron Maiden are playing bigger shows than they ever imagined, and I think it surprised the band, it surprises the fans," says Sam Dunn.
"I think the general assumption is that Iron Maiden is an 80's band, clad in spandex and mullets and headbands and greasy hair and clearly they've come a long way since then, thank God."
E-mail to a friend

All About Brazil • Iron Maiden • Heavy Metal