(CNN) -- After an exhaustive poll of Iron Maiden fans, there's little doubt which song whips most of the audience into a frenzy during its live performance on stage.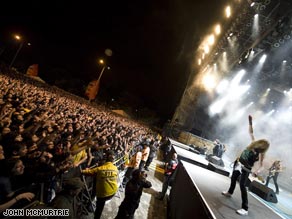 Iron Maiden fans in Colombia go crazy as the band belts out some of their favorites.
"Hallowed be Thy Name" was the clear winner of the best live Iron Maiden song, closely followed by "Fear of the Dark".
TOP 10 MAIDEN SONGS LIVE
1.

Hallowed Be Thy Name »
2.

Fear of the Dark »
3.

Rime of the Ancient Mariner »
4. The Trooper
5. Run to the Hills
6. Iron Maiden
7. Aces High
8. Powerslave
9. Number of the Beast
10. Revelations
Thank you to all the Maiden fans who voted -- and a special thank you to those who simply couldn't choose their favorite song and nominated several for the gong.
Here is a selection of your replies. You can continue adding your comments by clicking the "Sound Off" button below. As many of you suggested in your emails, "Up the Irons."
1. HALLOWED BE THY NAME
The best live Iron Maiden song is "Hallowed be Thy Name." It is a classic track... It has been a staple of their live performances. The instrumental part is amazing with Dave Murray's solo. I cringe and get chills when they perform this track live. I love it. Up the Irons!
Derek Barnes
Hallowed be Thy Name. This song represents everything that Maiden are about. Haunting melody, explosive riffs, quality solos, stunning vocals and a sense of theatricality that few bands can pull off while keeping their integrity. The greatest metal song ever written.
Graham Doyle
Dublin, Ireland
The best Iron Maiden song, period: Hallowed be Thy Name. To my great surprise and even greater delight, the first time I saw them live (1986?), when they played this song, about half the audience sang along with the intro, while I had been thinking all the time that maybe I was one of the few people who really digs this song. It's about a prisoner on death row, and his last thoughts and doubts in the last minutes before his execution. But more important: it rocks!
Rob Hendrikx, long time Iron Maiden fan
Hallowed be Thy Name, from the start to end it is classic maiden and after 26 years still sends a shiver down my spine.
Richard P
Wales, UK
The greatest live Iron Maiden song is Hallowed Be Thy Name. This song not only embodies the persona of the band Iron Maiden but it also personifies the entire genre of heavy metal music. The song's story is about a man's final minutes of life before he is executed on death row. Like the very popular movies Star Wars and Harry Potter, Hallowed Be Thy Name helps ease our fears about passing away. It helps us to be better people by overriding the natural "terror" reaction to the reality of death. It helps us to face the fear and not be ruled by it. In return for this bravery, freedom is given to truly experience the wonders of life. This is why Hallowed Be Thy Name is not only the greatest Iron Maiden song, but the greatest heavy metal song of all time.
Jerry Orr
2. FEAR OF THE DARK
Fear of the Dark because of the intro with the great audience response and the sudden explosion into one of the best Maiden songs.
Carsten Rose
Denmark
It has to be Fear of the Dark I saw Iron Maiden in Brisbane Australia and for sheer impact FOTD had the biggest audience reaction and audience participation 15,000 fans all singing along to the entire song.
Aaron Ryan
Australia
That is a very difficult question, but my choice would be Fear of the Dark because of many reasons: the song itself, the response of the public is incredible. Everybody get their lighters and cell phones out when the arena is dark; Bruce Dickinson's performing is great and the band plays amazing!
Ligia Turincio
Mexico City
3. RIME OF THE ANCIENT MARINER
The song is Rime of the Ancient Mariner. I think I listened to this song around 500 times in my life, which means 112 hours with just only one song. This song means adrenalin, energy, atmosphere, dream and great performance by the band, specially live, this song bring us to travel through the imagination, the power of creation, the combination of riffs and melody, a journey + lyrics make it so special.
Lela
Rime of the Ancient Mariner is the #1. Not only is it a well known poem, but Steve Harris brought this poem to life. I can only say if were not for him condensing this, I would never got interested in the poem. The whole production on stage is fantastic. Guitars a-pounding, drums a-thumping, and of course the beautiful voice of front man Bruce Dickinson. After getting thumped by the first part of the song, it calms down a bit with the creaking of the ship, with smoke rising from the stage (spectacular). All of a sudden Bruce kicks it up mach 3 with his powerful vocals and from there we go on and on and on. This is my pick for best song to see, hear, and make you feel like you're there.
Lance Fagel
Though all Iron Maiden songs are incredibly awe-inspiring when seen live, the most extraordinary song that Iron Maiden plays must be "The Rime of the Ancient Mariner." This thirteen minute epic, inspired by Samuel Taylor Coleridge's poem of the same name takes the audience away from this world into a realm of absolute fantasy. The technicality of the band plus the use of incredible stage props and pyrotechnics create a sensation that is simply inexplicable. "The Rime of the Ancient Mariner" is not your typical C grade Nirvana song that preaches about the absurd ideas of depression and "teen angst," but an epic piece that takes the listener on an unforgettable journey.
Parvez Malek
There are few songs in rock history that portray the complexity of this genre and express both the powerful harmonies and pure energy that draws us fans to see our musical idols in massive numbers to their shows. Iron Maiden's worldwide cult-like following is largely due to their legendary live shows where both the crowd and the band draw energy from each other and unite as one. While most people probably chose their song 'Fear of the Dark' due to its mass like crowd participation, I chose the 'Rime of the Ancient Mariner' as their premier live song. This song illustrates everything that is great about Maiden...their musicianship, the changing rhythms beautiful melodies, and larger than life vocals combined with their immense stage show following through song leaves all music fans breathless, voiceless, and tearless with a huge goofy smile on their face. (Certainly does to me)
Balazs
Budapest, Hungary
4. THE TROOPER
My favorite song is "The Trooper"!! It gives me the power of going on, every time, everyday!!! It never leaves me alone, and when I'm sad, it makes me smile!! It pushes me up, it makes me shout, and it drives me crazy, YEAH!!
Best wishes from Italy! And up the irons!!
Elena
In my opinion, the greatest Maiden song played live is "The Trooper". It has the trademark gallop of Steve and Nicko, it's nicely in Bruce's range, all three guitarists get a solo (Adrian and Janick solo in unison) and the opening riff is instantly recognizable. It is one of Maiden's signature songs and translates very well every time it is played. I was at the Toronto show March 16 and when the four guitarists lined up at the front monitors, the entire crowd loved it. The Trooper is the quintessential live Maiden song!
Ryan Hennessey
Dawson Creek, BC
Gotta be The Trooper...it aint my favorite number, but... it has stood the test of time, been played on every set list since, the Union Jack is proudly waved by Bruce and the fans absolutely love it. What more do I say apart from UP THE IRONS!
Johnny Greer
Northern Ireland
5. RUN TO THE HILLS
Run to the Hills!!! Everybody knows it, everybody sings along! Big energy!Up the Irons!
Natasha Jones
Their greatest live song is Run to the Hills! Why? For me is very simple, until I was present in the moment they played that song I wasn't into Maiden too much, but watching that song when I 14, there, at the barrier, feeling Nicko's bass drum hitting right on my chest at the beginning, was just the most amazing thing that I've ever lived with music, and from that day Maiden became a huge part of my tastes and beliefs. The passionate shouting of Bruce along with the public is like the hymn of what all we trust in that place: In metal, and above that, in Iron Maiden!!
Juan Carlos Bustos Orellana
Santiago, Chile
Most would probably agree -- just listen to most any live Iron Maiden set, and at the end, you will hear that famous drum beat, then the unmistakable guitar and bass section, and those famous lyrics, "White man came, across the sea, he brought us pain and misery" and the crowd, weather it be 5,000, or 300,000 (Rock In Rio, 1985) sing it word for word, start to finish, with an energy that I've never heard before, not even at other great metal bands concerts. RUN TO THE HILLS, RUN FOR YOUR LLIIIIIIIIIIIIIIVVVVVVVVVEEEEEEEEEEEESSSSSSSS!!!!!!!!!!!!!!!!!!!!!!!!!!!!!!
It's not just any song, it's an absolute treat!!
Pete Gravell
Westville NY
6. IRON MAIDEN
The best song live is Iron Maiden... appropriately. When Eddie comes on stage, the crowd singing along and the band interacting with Eddie. This all ties in well their elaborate stage show. Roll the footage and you'll see what I mean. In 3, 2 ,1...
Carrie Tisdale
The song Iron Maiden is a classic in itself. It's a song I love to hear, and witness the spectacle of their mascot "Eddie" as he roams the stage. It is also a sign that the show is almost over, which is a bummer. The only part of an Iron Maiden show I don't like is when it ends.
Chris
Long Island NY
My favorite LIVE Iron Maiden song is probably the song "Iron Maiden". It personifies the actual feeling of being a fan and seeing a LIVE Maiden concert..."Iron Maiden, gonna getcha, no matter how far......." that quite sums it up, and they do get ya, right where the music hits hardest.
Phil
Alberta, Canada
The greatest live Maiden song for me would have to be "Iron Maiden" because it is true metal anthem to sing along to (but the main reason is because you get to see Eddie!!).
Matt How
The greatest song performed by Iron Maiden would probably be Iron Maiden -- it's that special song at the end of the show where Eddy comes out and all hell breaks lose!
Lucas Di Mascio
7. ACES HIGH
I would choose as best Aces High!!! Killer opener with some up-tempo riffs and melodies in there!! Vocals are great and gives the crowd the chance to sing along with Bruce!!! Guitars are great with incredible solos and of course INCREDIBLE playing from the 3 amigos!!! Steve chooses not to play something hard on the bass but he plays the base of the song, giving a great temp on the whole song!!! That's Aces High, the best opener for a gig in my opinion!!! :)
Jimmy
Greece
I think though there are so many tracks I can vote for, the excitement of Ace's High has a certain level of fire power that I don't notice in other tracks. So yeah, Ace's High of 1984's Powerslave. It's an incredible track and the guys should always be proud of it.
Jim "The Sadist" Taylor
8. POWERSLAVE
The best Maiden song live, I think is "Powerslave", because of the "dark" melody and theatrical appearance of the band during that song. It also sounds 10 times better live than on cd!!
Jos Wagenaar
Drachten, Holland
9. NUMBER OF THE BEAST
My vote would have to go to 'The Number of the Beast' from Live After Death (1985) -- 23 years later and it's still one of the most brilliantly written and executed performances in all of rock music. Up the Irons!!
Josh Garey
10. REVELATIONS

So you wanna know what is the greatest Maiden live songs and why? Well it's a very stupid question because Maiden have something like thirty greatest live songs, but I'll give you one. REVELATIONS, and the reason. Bruce sings it so soulfully (especially 2nd verse) It always brings tears in my eyes.
Hued from Finland
I have only seen Iron Maiden once, which was this March on the 14th. Overall it was a great show but the one track that stands out for me is Revelations. Before the concert I saw the set list and wondered, "How the hell are they going to play such a slow-paced song with all these galloping adrenaline-induced songs?" When I heard it after 2 Minutes to Midnight I was blown away and hardly recognized the track from its studio version!
Chris Puglisi
Berkeley, California
E-mail to a friend