By Chris Willman
Entertainment Weekly
(Entertainment Weekly) -- Oh, brave new leaky world.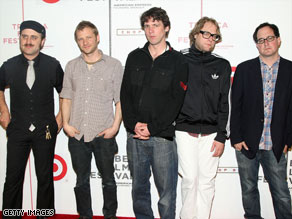 From left, musicians Franz Nicolay, Bobby Drake, Galen Polivka, Tad Kubler and Craig Finn of the Hold Steady.
When the Hold Steady's thrilling fourth album, "Stay Positive," hit file-sharing services seven weeks before its release date, fans weren't sure whether to embrace it as an early Christmas gift or bemoan the leak as a blow to the group's breakthrough chances.
Their label tried to turn some of the illicit downloads into licit ones by bumping up the iTunes release a month.
That move ticked off brick-and-mortar retailers stuck with the CD's July 15 drop date, so the Hold Steady have added three bonus tracks to the physical product. (These songs will be available on the first 50,000 copies, in Digipak form.)
In a strange way, this messy release mirrors the themes that dominate Positive. Frontman Craig Finn writes rich, often dark, occasionally hopeful songs about how tough it is to keep the initial fires of adolescence alive through the mundane realities that follow.
Or, in other words: What if our passions peak too early, before our official release into the real world?
The album kicks off with the Hüsker Dü-like "Constructive Summer," on which kids under the influence make lofty plans for their lives: "Summer grant us all the power/To drink on top of water towers."
Finn's also obsessed with what happens when those teens grow up -- as in "Joke About Jamaica," where a female barfly pines for the days when "the boys were sweet and musical ... messed up still felt magical."
While some of Finn's characters come to dead ends, the music stays in a state of arrested exhilaration. The single "Sequestered in Memphis," with its piano arpeggios, sax honking, and sing-along chorus, swings like early E Street Band; never mind that the narrator is coughing up details about a one-night stand as part of a murder investigation.
But the influences reach further than just Bruce. "Navy Sheets" pulls off a jolting, Jimmy Page-type guitar figure, then tops it with a synth riff right out of the Cars' manual.
What keeps it all from being a classic-rock pastiche is Finn's drolly rendered vocals and weird storytelling, which make the Hold Steady something you're certain you've never heard before.
The CD version ends with a flare of trumpets in "Two Handed Handshake." There Finn surveys a sorry nightclub and admonishes the lounge lizards that "we gotta try a little harder ... be a little better."
And damn if an already nearly perfect album doesn't, with these bonus tracks, get a little better itself.
EW Grade: A
E-mail to a friend

CLICK HERE to Try 2 RISK FREE issues of Entertainment Weekly
Copyright 2009 Entertainment Weekly and Time Inc. All rights reserved.
All About Music