LONDON, England (CNN) -- Pop star George Michael was cautioned by police in London after being arrested in public toilets on suspicion of possessing drugs, the UK's Press Association reported.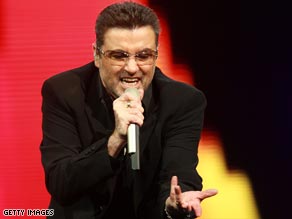 George Michael has talked candidly about drug use in the past.
In a statement, the Metropolitan Police said a 45-year-old man had been arrested in the Hampstead Heath area of London on Friday. He was later released with a caution for possession of class A and class C drugs.
The statement did not name Michael, but other sources confirmed his identity.
Reports Sunday said Michael had been arrested following a tip-off to police from a suspicious toilet attendant, PA said.
The 45-year-old, who has sold more than 100 million records worldwide, has talked openly about his use of drugs in the past.
In an inteview with the BBC last year he admitted: "I'm a happy man and I can afford my marijuana so that's not a problem."
Last May he pleaded guilty to driving while unfit through drugs and was banned from driving for two years after being found slumped behind the wheel of his car.
E-mail to a friend