By Shanon Cook
CNN

NEW YORK (CNN) -- You could call them New Clergymen on the Block: three Roman Catholic priests from Northern Ireland who on occasion swap their rosary beads for microphones and their parishes for studio time.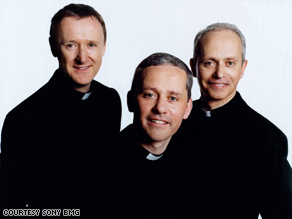 The Priests' debut CD -- part of a major record deal -- includes versions of spiritual songs and Irish tunes.
Fathers Eugene O'Hagan and Martin O'Hagan, who are brothers, and David Delargy have been in the priesthood for some 20 years. But they've been singing together since their early teens.
In February they recorded a demo in Belfast which they sent off -- as Eugene O'Hagan puts it -- to "the powers that be." Sony BMG responded almost instantly with a very nice offering indeed, a record deal reportedly to the tune of somewhere north of $2 million.
The Priests' debut album will be released on November 18 and was produced by Mike Hedges, known for his work with U2 and -- ironically -- Manic Street Preachers (who, of course, are not clergy but punky Welshmen). Some recording took place in St. Peter's Basilica in Vatican City, and the priests maintain they'd like some of the profits from their music endeavors donated to a charity of their choice.
These priests aren't metalheads; you won't find "Stairway to Heaven" or "Highway to Hell" in the Priests' repertoire. Rather, you'll hear their spine-tingling harmonies applied to spiritual songs like "Panis Angelicus" and "Ave Maria," as well as some traditional Irish tunes.

Watch the Priests in perfect harmony »
If that doesn't sound hip enough, know that all three clergymen own iPods (two admit to using BlackBerries). And Delargy claims that the first album he ever bought was Blondie's "Parallel Lines."
The Priests caught up with CNN while on a quick trip to New York and talked about balancing their newfound fame with the church.
CNN: How do you manage your priestly duties while embarking on a recording career?
Martin O'Hagan: It's tricky. It's like spinning plates in many respects. We do have in the contract a specific indication that our duties in the parish won't be in any way compromised and we're delighted about that, and most grateful.
CNN: Is it fair to say you consider yourselves priests first and musicians second?
Eugene O'Hagan: Well, we've always been singing, even before we became priests. So in a sense entering into the musical life of the church has brought us into priesthood. It's a happy fusion of two gifts, really -- priesthood and music.
CNN: How did you enjoy the recording process?
Eugene O'Hagan: It's been hard work. It's been tough work. We've never worked with "cans" (headphones) before. And the whole technological side of recording has been an eye-opener. And for those of us who have never been exposed to that kind of technological world and the advances of science and mixing and recording, it's been a really fantastic experience.
CNN: Which of you has the biggest rock star attitude?
(The three priests point to each other and laugh.)
CNN: Well, what's it like getting all this attention?
Eugene O'Hagan: Well, it's unusual, needless to say. I suppose all priests are at the center of their communities and parishes. We are used to being in the public eye, especially on a Sunday morning or when you're celebrating maybe a wedding or [at] a funeral, a baptism. So that has helped us maybe cope with the growing interest and media interest and what we do and what we sing and who we are.
CNN: Do you expect to offer help to wayward musicians?
David Delargy: Well, we wouldn't be setting out to be the answer to people's needs in that respect. But it's interesting that in the course of the work we've been doing through this recording, we have met people who come from different backgrounds, people who have faith, some people who have no faith, some people who are searching. Other people who have various dilemmas they're working through in their own lives. And perhaps there may be an opportunity just through ordinary interaction and contact to do a little bit of good, but certainly we aren't setting out with that in mind.
CNN: Is there going to be a tour?
Eugene O'Hagan: At the moment it's hard to see into the future in that respect, but I'd imagine that all three of us would certainly like to do that. And whatever's practically possible we'll certainly consider.
E-mail to a friend