By Denise Quan
CNN
STUDIO CITY, California (CNN) -- Katy Perry is running "Hot N Cold."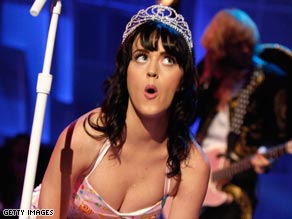 Katy Perry says she's been having fun with her musical career. With No. 1 singles, it's been easier.
The new hit from the "I Kissed a Girl" sensation, "Hot N Cold," features Perry in a video that contrasts a lush wedding scene -- with Perry up on the altar and her parents in the congregation -- with examples of the vampy-chick persona, such as shoving around her lover in an alley, the singer played in the "I Kissed a Girl" video.
In real life, Perry has had to navigate opposite ends of the musical spectrum as well. The 24-year-old began her career as a teenage Christian music singer under the name Katy Hudson, but when that attempt fizzled, she reinvented herself as Katy Perry, using her mother's maiden name and slicker dance-pop grooves.
The result: a No. 1 single with "I Kissed a Girl," a bit of protest from conservative groups (and, rumor has it, her religious parents) and the possibility of being nominated for a Grammy as best new artist when the nominations are announced Wednesday night.
CNN's Denise Quan talked to Perry about her recent success, her hit single and dodging the paparazzi. The following is an edited version of that interview.
CNN: What does it feel like to be up at the altar [in the "Hot N Cold" video], with your fake preacher, the groom, your parents sitting there in the audience?

Watch some of "Hot N Cold" -- and "I Kissed a Girl" »
Katy Perry: Yes, my real parents were in the real music video. I don't know, I thought it was kind of like the dress rehearsal. I will wear something not in the norm when I get married -- and rhinestones. So whoever it is, you better watch out.
CNN: You have a lot to live up to, because the video for "I Kissed a Girl" was so over the top, so elaborate, and it got so much attention.
Perry: Yeah, "I Kissed a Girl" got a lot of attention -- and that was my first video. It is kind of interesting when you are going for your first video and your first everything, you know, you are taking a lot of chances, and I felt like that was the very oop-boop-bee-doop side of me. But now this is the me that is stupid and silly and not afraid to have a bad shot and a bad angle and kind of make fart noises.
CNN: "I Kissed a Girl" shaped up to be one of the most memorable songs of the summer.
Perry: I know. Well, thank you. Summer '08, girls kissing girls ... oh wooo. ... It is definitely a song where it is like, "I can't believe she said that, I thought about that too, but I was never going to say that out loud. She did."
CNN: Everyone wants to know -- how autobiographical is it?
Perry: Um, well, it is very autobiographical. I did kiss a girl, and it was nice.
CNN: Word was your parents weren't too happy that you did it.
Perry: You know my parents were here at the music video [shoot] today, and I think that if they were not supportive or if they were not on my side, then they would not be here. ... Those rumors are just rumors. I don't feed the tabloids, so they get really, really hungry, so they are like, "I have to make something up, why don't we do this?" I'm like, whatever. I don't want to put out all the fires one by one.
CNN: We saw paparazzi hanging out there when we got here. Hours later, they're still out there, standing in the dark with their cameras.
Perry: I know, I had no idea. I don't know who hired them or if they are my cousins, I don't know who they are. I haven't been home in forever, I have been on tour. I was always wondering, what will it be like when I get home?
I think they just want to catch little things, like me in a full-on wedding gown. I think I have played their game a little bit, but not too much. I have to do my job.
CNN: Are you ready for them? Ready to have them digging through your trash, waiting for you outside music shoots?
Perry: Are they going through my garbage? ... You know, it's the name of the game. You either know how to be shot and go to those places [that attract paparazzi] ... if you eat here, and do this, and party there, you are going to get shot.
CNN: You kind of have to play the game, but you have to know how far to go.
Perry: Well, it is either they use the picture of you picking your nose or they use the shot of you posing, so it is a very fine line. Some people walk Robertson Boulevard way too much [looking for paparazzi]. ...
I don't need the attention. I have a lot of attention right now on what is going on next, or ... the upcoming tour, or going to Europe. That is what is really important to me. I have always put music first, and I think sometimes people can forget that it is about the music, not about anything else, but have fun eating a chopped salad at the Ivy.
CNN: There's been some Grammy talk, and your name has been bandied about.
Perry: That would be nice. I think that if there was any Grammy talk about me, then [the attention would] not all be in vain. ... You get a lot of respect when you win a Grammy. I am not saying that I would even have [to win] anything, but I would like to have any kind of nod.
CNN: "I Kissed a Girl" went to No. 1 in 15 countries. How does that make you feel, when not long ago you couldn't get a record deal or got dropped by three different labels?
Perry: I think that I don't have to give them a middle finger. I think that this is the best revenge. I am not even looking to say "ha ha." I knew I would do it. ... I am happy that I have an opportunity to do it and speak my mind and I am having fun. ... I get to do crazy things, and I'm always opinionated about every single thing I do -- there is nobody wheeling me up or turning me around and pushing me out there and saying go do it, or do it this way, or be this, or wear this. ...
I mean, I say what I think. ["I Kissed a Girl" and all the talk around it] was probably not the most politically correct thing ever, but I have always [been up front]: This is me and it's a lot, and I think people appreciate it, because I think sometimes that is what may be missing from female pop girls. They might be so scared to do this, and have this move, and walk out of this place, or say this, and they do retractions, and "sorry" and "I didn't mean this." I don't feel that I have to explain myself to anyone, because I think that my true fans understand me. They have the same kind of mishaps and humor as I do.
CNN: How about your clothing line? Is it going to be pinup oriented?
Perry: I am not ever going to be just one thing. I am always going to have a sense of humor. Like a big fat bow with rhinestones and hot pink for the bride gown, of course. Why not? Because I am young and I like to have fun.
E-mail to a friend

All About Katy Perry • Grammy Awards • Pop and Rock Music