LOS ANGELES, California (CNN) -- Maybe it wasn't John Lennon's best musical effort, but a tape of an apparently inebriated Lennon warbling a cover of Lloyd Price's "Just Because" brought a sobering $30,000 at auction Sunday in Los Angeles.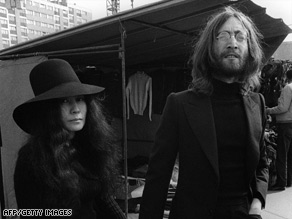 John Lennon and his wife Yoko Ono, seen here in 1969 at a Paris Flea Market.
Bonhams and Butterfields auction house spokeswoman Margaret Barrett said Lennon had apparently had one too many when he got behind the mic in the 1973 recording session.
"It was six minutes, 16 seconds, and John singing very drunk and with John ad-libbing his own lyrics into the song -- so it's actually a fun song to listen to," Barrett said.
Described in the auction catalogue as "One standard orange-colored cassette tape with audio of Lennon in fall of 1973 singing the Lloyd Price song 'Just Because,' " the never-before-heard-in-public cassette was given to the former owner personally by Lennon, the auction house said.
That former owner was not identified, nor was Sunday's buyer -- for whom another Fab Four classic -- "Money" -- now might have new meaning.
E-mail to a friend

All About John Lennon