By Karin Caifa
CNN

WASHINGTON (CNN) -- For musicians, the holiday season traditionally brings a windfall. Musicians can often pick up a significant portion of their annual income with a month filled with back-to-back performances.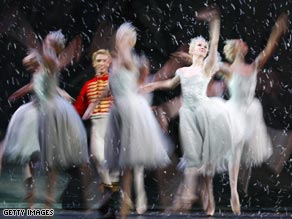 Dancers perform the "Nutcracker" in 2007. Many arts organizations are struggling this Christmas.
"It was almost like the retailers where you'd make all this money that would come in because, yeah, I might have six or seven gigs on the books and booked out," says J. Austin Bitner, a Baltimore singer. "But then I'd get calls to squeeze in another six, seven, eight gigs."
But this year, in the midst of an economic recession, he sees a calendar with lots of silent nights.
Holiday staples such as Handel's "Messiah" and Tchaikovsky's "Nutcracker," usually give an end-of-year boost to arts organizations and the musicians they hire to fill in extra performances. But the sinking economy has made the performing arts a tougher sell.
"There's great pressure in arts organizations to justify their existence during this kind of economic downturn," says Michael Kaiser, president of the John F. Kennedy Center for the Performing Arts in Washington, D.C.
As wary Americans cut spending, ticket sales have softened, and donations have slowed. Endowments have plummeted along with the stock market, and corporations that have made significant contributions in the past may no longer be able to donate. Some are simply too cash-strapped, while others have disappeared completely or merged.
"You might have had Merrill Lynch give $4,000 to an organization, and Bank of America give $4,000," Bitner cites as an example. "All of a sudden when they merged together, $4,000 dries up from Merrill Lynch and you just get the $4,000 from Bank of America."
Kaiser advises performing arts organizations around the country and around the world on how to navigate their management and financial challenges. He says that the current economic climate poses immediate and long-term challenges for many groups that schedule their performances and book contracts with performers well in advance.
"This year, this season, is the most challenging because we all announced our seasons before we really felt the major brunt of this downturn," Kaiser says. "And many organizations don't want to show themselves pulling back on the art that they've already announced."
"I think some organizations are actually canceling productions for this year," he adds. "Many are re-evaluating their planned productions for the following seasons, and I think many performing arts organizations are thinning out what they're going to be doing for the next few years."
Some groups have taken the most drastic of measures. The Santa Clarita Symphony in Southern California just cancelled its 2009 performances. The American Musical Theatre of San Jose, California, has filed for bankruptcy. So did the Baltimore Opera, which filed for Chapter 11 on December 9, leaving Bitner and his colleagues Chris Rhodovi and Monica Reinagel without those steady contracts.
The move has had a ripple effect throughout the city's arts community, as other groups fear for their own stability. "It's filtering throughout the entire community," Reinagel says. "Other organizations are canceling productions, canceling performances, cutting back on staff, so everyone is affected."
When advising groups on cutbacks, Kaiser suggests that the changes be made behind the curtain, as he has done at the Kennedy Center. "We are not changing artistic plans for the season," he says. "We have cut our budgets in ways that the public doesn't have to experience."
But even cuts behind the curtain can hurt musicians who also rely on off-stage, steady employment in the arts. "The last year I've spent working as a development and marketing associate for a midsized arts organization here in Baltimore that had to cut back, so I just got laid off from my day job," Rhodovi says.
They acknowledge they are not alone. "Even the people with the most solid 9-to-5 jobs are being laid off, and so we're really in the same boat as everyone else," Reinagel says.
And, like everyone else, they are hoping for a much-needed turnaround. "As artists we can only hope that what the arts community here is suffering is short-term," Bitner says. "And that we can survive for the long term."
Noting that the movies traditionally do well during a recession, Kaiser says the arts have an important place in these tough economic times, especially during the holiday season.
"People are looking for a way to not think about everyday life and to be inspired and to be entertained, and that's what the arts do," Kaiser says. "We all want to continue to pursue our missions, we want to do great art, we want to serve our communities, we want to do educational programs, but we know we need to have the money to support those."
E-mail to a friend