(CNN) -- In recent years, Alec Baldwin has been on top of the world -- and buried beneath its weight.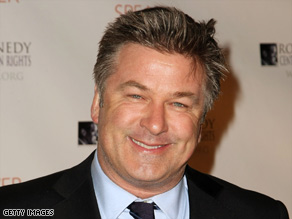 Alec Baldwin received a Golden Globe nomination for his performance on the TV show "30 Rock."
Professionally, Baldwin has hit a new level of success with his Emmy award-winning turn as corporate honcho Jack Donaghy on "30 Rock." (His performance also earned him a Golden Globe nomination Thursday.) The actor also earned critical praise for supporting turns in the movies "The Aviator," "The Departed" and "The Cooler."
Personally, however, Baldwin's life became fodder for the tabloids, particularly during his protracted divorce battle with ex-wife Kim Basinger. In 2007, an angry voice mail Baldwin had left for his daughter was made public by the gossip Web site TMZ.com. At the time, Baldwin and Basinger were in an angry custody fight related to their 2001 divorce.
The outspoken Baldwin has now written a book, "A Promise to Ourselves: A Journey Through Fatherhood and Divorce" (St. Martin's Press), about the psychological toll of divorce, as well as the much-debated concept of "parental alienation."
He talked to Joy Behar on "Larry King Live" about the book, his divorce, politics and Sarah Palin, and how he feels about the public eye. The show is scheduled to air at 9 p.m. ET Wednesday. Following are excerpts from the interview, which have been edited for clarity:

Watch Baldwin talk about Basinger, suicide »
Joy Behar: I really thought this was a very compelling book.
Alec Baldwin: Did you like it?
Behar: Yes. ... You write very well, I thought.
Baldwin: I find, for people who went through that, or someone close to them went through that, they got a lot out of it. For ordinary people that haven't dealt with that, it might be a little dry.
Behar: But where are you at now, in your head? I mean, how is everything in your heart and your head?
Baldwin: Good.
Behar: It's good? ... You're in a good place?
Baldwin on 'King'
Alec Baldwin talks about his painful divorce, his new book and a sketch with Sarah Palin on "Larry King Live."
Tonight, at 9 ET

Baldwin: I mean, I feel happy. I have -- the job that I have is a fun job.
Behar: A great job.
Baldwin: It's a great job.
Behar: You're hilarious on it.
Baldwin: We have fun. ... I just -- I really can't complain about anything. I really -- and you look at the economy, and you see how many people are struggling and don't have a job. ... And I have a job.
Behar: That could happen.
Baldwin: Who would have thought?
Behar: I know. It's true. But I think I thought that you were with your daughter, Ireland ...
Baldwin: Yes, she's here with me, yes.
Behar: ... who is a beautiful girl. She's here with you, so that's all better.
Baldwin: Yes.
- - - - -
Behar: OK. We're back with Alec Baldwin. Alec, let's talk about your marriage now, OK? I think that ...
Baldwin: Do we have to?
Behar: Well -- because you're in a good place about it. You have distance now.
Baldwin: Yes.
Behar: You can talk -- tell me about Kim. What was it about Kim Basinger that attracted you to her, besides ...
Baldwin: Let's talk about something else.
Behar: ... her obvious beauty?
Baldwin: Right. But I mean, but ...
Behar: What was it?
Baldwin: ... To me, none of that matters. What I've learned is that there are relationships. And this is why I wrote the book "A Promise to Ourselves," ...
Behar: Right.
Baldwin: ... from St. Martin's Press.
Behar: Yes.
Baldwin: I wrote the book, because there are people I know who, they can have a collaborative divorce. They can have a divorce in which everybody has some dignity, and they can resolve these issues without lawyers and judges and court-ordered therapists ...
Let's put it this way. So much of what I went through the last eight years, it was unnecessary. It was completely unnecessary. It costs a fortune. And more the psychic toll. I mean, I aged like 20 years in the last eight years. It really -- it killed me. I was really tired.

Watch Joy and Alec talk about the effects of divorce »
Behar: I know. The book -- it comes through in your book.
Baldwin: Yes, it's pretty heavy. ... But that's behind -- in other words, all of that is behind me now ...
Behar: Yes.
Baldwin: ... to the extent that I think that people do get tired. I mean, I can't think of anybody I have less respect for than some of the lawyers involved with my case, and some of the judges.
Behar: ... You say something about 50-50 custody. I'm not sure if I agree with that particularly.
Baldwin: Why?
Behar: I don't know if that's ...
Baldwin: What about it?
Behar: Well, because why -- why should it be 50-50? ...
Baldwin: Well -- but here's the thing. And that is that, I believe that 50-50 custody should be the default position for men who want and earn 50-50 custody. If during a divorce proceeding or a custody proceeding, you determine that the father was never there, he's only doing it to spite the mother. He's only taking half of something that he doesn't want, to spite -- to reduce someone else's time.
Well, like in -- West Virginia has a very important law right now, where custody is allocated after an analysis is done of what the parenting -- of how the parenting duties were divided during the marriage. So, for example, if you and I are married and we have a kid, and you go off to work every day ...
Behar: Yes.
Baldwin: ... and I come -- and we get divorced, and I say, "I would like to have 50-50 custody," and you say, "No. You worked all the time," I can go to court in West Virginia and say, "Well, you worked all the time, too. We both had careers that took us away from the child. So, it wasn't like you parented more than I did." ...
I don't want anybody to automatically get custody. I want qualified men, who want it -- because many men don't want it. That's a very important issue as well.
Behar: Do you remember the moment when your marriage fell apart? Because I can almost remember mine. ...
Baldwin: You know, I don't really -- I can't really remember it. It's all like a blur to me now, you know. And it doesn't really matter to me. I feel like I met someone, and they were someone who was an incredibly alluring person. And I was new in my business. I met someone who was very interesting. And I was at an age ...
Behar: How old were you?
Baldwin: I was -- when I met her, I was 32. ...
I was 32. And I got married three years later. I was 35. My daughter was born when I was 37. So, all of it was ...
Behar: How long did you know Kim before you got married?
Baldwin: Three years.
Behar: Oh, three years. So, you really knew ... As they say, you knew the grenade you were going to fall on. [laughter] OK.
Baldwin: Those are your words, Joy.
- - - - -
(Baldwin appeared on an episode of "Saturday Night Live" that featured a guest appearance by Republican vice presidential candidate Sarah Palin, whom Baldwin -- a committed Democrat -- opposed. In a sketch, Baldwin insulted Palin and then tried to suck up to her.)
Behar: Did you get to talk to [Palin] a little off camera?
Baldwin: Very briefly.
Behar: Oh, yes? Was it friendly?
Baldwin: Well, she was entombed in Secret Service agents. And they had to -- they covered the entire floor and the elevator, and the entire ... and they closed off the street. There had to be 950 Secret Service agents ...
Behar: Yes.
Baldwin: ... because she's the vice presidential candidate.
Behar: Do you think that [Baldwin's "30 Rock" co-star] Tina [Fey]'s impression of her did anything to the election? I mean, do you think it had anything ...
Baldwin: People say it did. But, I mean, I couldn't possibly comment on that. I wouldn't know. But people say that it did. I want to think that -- I don't really know. I have more faith in the American people. I can't imagine that they would let that sway them. ...
But I think that the correct answer is that what Tina did, and so beautifully, was just underline what was already out there in the journalistic zeitgeist and on the record, which was the woman was not ready to be the vice president of the United States.

Watch more of the discussion with Joy and Alec »
Behar: Yes.
Baldwin: She just wasn't.
Behar: Do you think she knows that -- or knew that?
Baldwin: I think it was a win-win for her to be the nominee. She's only the second woman to be the nominee in this country.
Behar: Yes, right.
Baldwin: ... And I think that, you know, for her, it's just full speed ahead now for her career, or whatever she wants to do.
- - - - -
(Baldwin wasn't pleased when the voice mail to his daughter appeared on TMZ.com.)
Baldwin: When that happened -- because it was at the -- it was at a time when -- actually, when that happened, it was at a time when I believed that the worst was behind me. I actually had a couple of months of everything being very pleasant, and on so many levels. The show, we were winning some awards. I really felt like things -- that life was good.
We live in a culture in which humiliating people and bringing people down for scorn is ...
Behar: I know.
Baldwin: ... is a big part of it. You know, mocking people. I mean, your show, they -- you go on YouTube, and the things you say, they sensationalize ... If Elisabeth [Hasselbeck] says something ...
Behar: Yes.
Baldwin: And she kind of gets into it with you or Whoopi [Goldberg], the next thing on the AOL home page -- and what's dumber than the AOL home page, the AOL home page used to be like the dumbest content you could find -- the AOL home page has ... the clip of you guys, you know, butting heads for the, only the fourth time that week.
Behar: I know. And I have to constantly tell people that we like each other off the air.
Baldwin: Who cares?
Behar: It's just on the air. It gets tedious.
Baldwin: Why does everything have to be about the negative, and people's problems?
Behar: That's what they like.
Baldwin: This person's butt is too big. Here's a -- here we snuck some shots of this woman on vacation at the beach.
Behar: I know. But isn't it a distraction from the real problems of life? You're losing your job. Your kids are driving ...
Baldwin: That's what's criminal about it.
Behar: Yes.
Baldwin: I think we need to -- we need to focus on what's wrong. We need to keep our minds on the things that matter, and not what doesn't matter. And entertainment has become like this opiate that keeps people from focusing on what's real.
Who cares if some actress' ass is too big? Do you really care?
Behar: The actress does.
AOL is a unit of Time Warner, as is CNN.
E-mail to a friend

All About Alec Baldwin • Kim Basinger • Sarah Palin