(CNN) -- Ask an adult what makes a children's book appealing, and she might talk about the colorful artwork, the clever storytelling or the lessons imparted.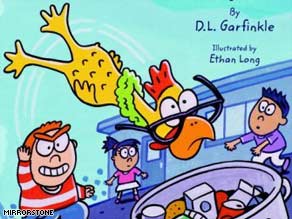 In the "Supernatural Rubber Chicken" series, a magical bird grants wishes to children.
Ask a child what makes a children's book appealing, and she might say, "It is weird and happy!"
Obviously, children and adults have different ideas about what makes a good children's book.
Children can be the biggest boosters of children's books, asking to read them (or have them read) dozens of times.
Or they can be the cruelest critics, dismissing them to go play with toys -- or turning the book into a crayon-covered, ripped-page toy in its own right.
So, as CNN.com has done in the past, we decided to ask some children what they think of some recent children's book releases.

Listen to children review some "weird" and "wacky" books »
Our panel included 8-year-old Andrew Oglesby, who will enter third grade at a suburban Atlanta, Georgia, school in the fall; Rosa Williams, 6, who recently finished kindergarten; and Kaya Wheatley, 5, who will enter elementary school in the fall. All three are children of CNN.com employees.
The trio previously reviewed books in December 2007. Click here for that story.
Among the books they review: "See How They Run," a primer on the electoral process by Susan E. Goodman and Elwood H. Smith; "Rosa," a biography of civil rights pioneer Rosa Parks by poet Nikki Giovanni; "Otto's Orange Day," a fanciful tale of a world turned orange by Frank Cammuso and Jay Lynch; and "Mimi," a story about a lost bug by Carol Baicker-McKee.
Naturally, the floor is open to more reviews. Go to iReport.com and submit your own reviews of children's books -- or review our reviewers.
E-mail to a friend