LONDON, England (CNN) -- Last year's constructors' championship had a twist in its tail, with McLaren thrown out for spying on Ferrari -- who again claimed the crown. BMW Sauber were promoted to second and, after making steady gains in the winter, fancy their chances of another top finish. It should be a tight battle at the top.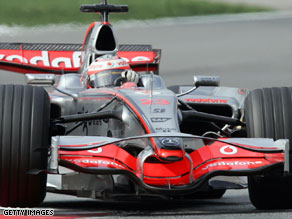 McLaren are hoping for a less controversial season after being implicated in a spying scandal.
Lewis Hamilton's sparkling rookie season aside, 2007 was an annus horribilis for McLaren.
Fined a whopping $100m by the FIA and thrown out of the constructors' championship for their involvement in the Ferrari spying scandal, the team are looking forward to a more prosperous 2008.
With the more placid Finn Heikki Kovalainen -- rather than the fractious Fernando Alonso -- partnering Hamilton this year, petty spats between the drivers should be a thing of the past.
It is just as well: Hamilton's promotional and media commitments are already distracting him enough -- the Briton admits that he has about half as much time to train as in 2007.
He'll need to be at his focused best to avoid the dreaded second-year syndrome.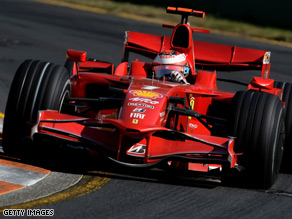 Kimi Raikkonen will be hoping to lead Ferrari to another title double in 2008.
2007's big winners. With McLaren disqualified from the constructors' championship, the path was left clear for the Scuderia to coast to victory.
Kimi Raikkonen pipping Lewis Hamilton to the drivers' championship in the final race only rubbed salt into McLaren's wounds.
The dominant team of the early 21st century was back. Raikkonen and Felipe Massa both return as drivers, as does Michael Schumacher, who will reprise his role of consultant once again in 2008.
Honda will be looking to improve on a dismal 2007 season which produced just six points -- four of which came in the penultimate race of the season in China.
A new team has been appointed to rectify the aerodynamic problems experienced with the RA107 car in 2007, and the appointment of the former Ferrari technical director Ross Brawn as team principal can only help their cause.
The same drivers -- Rubens Barrichello and Jenson Button -- return for 2008.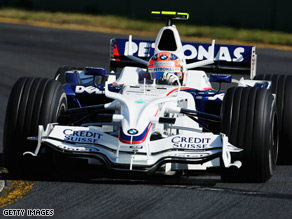 Robert Kubica is expected to build on his excellent performances for BMW last season.
Since BMW took control in 2006, BMW Sauber has seen a dramatic improvement in their fortunes. 2007 saw the team break 100 points, which comfortably secured them second place -- albeit 103 points behind the winners, Ferrari.
Podium finishes will be the main aim in 2008, after finishing fourth eight times in 2007, and winning a grand prix remains a possibility for drivers Nick Heidfeld or Robert Kubica, who team up for a second consecutive season.
Toyota will be glad to see the back of 2007, which saw them claim only 13 points.
Two fallow seasons have followed since the zenith of 88 points in 2005. The team has promised a complete overhaul of their car in 2008.
With Ralf Schumacher following his brother Michael into retirement, Jarno Trulli assumes the lead driver position in his fourth season at Toyota. The 25-year-old German Timo Glock completes the driving team.
After purchasing the Jaguar Racing team in late 2004, Red Bull Racing has gone from strength to strength, and in 2007 they finished fifth in the constructors' championship, despite drivers Mark Webber and David Coulthard having to retire on 14 occasions.
If car reliability problems can be rectified, then more than one podium place in 2008 could -- and should -- be a real possibility.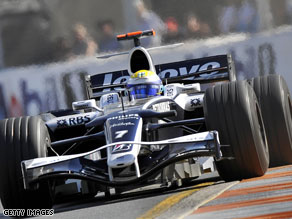 Nico Rosberg is expected to benefit from improvements to Williams' cars this season.
2007 was an improvement on the 2006 season where Williams -- using Cosworth engines -- retired their car 20 times and managed only 11 points.
Last year's tally of 33 -- with Toyota supplying the engines -- marked an improvement, but it was still a far cry from their 1990s heyday.
2008 marks the 30th anniversary of the team's participation in F1 and the Monaco Grand Prix will be Frank Williams' 600th in charge.
Nico Rosberg is joined on a permanent basis by Kazuki Nakajima, who was first given an F1 drive in Brazil in 2007.
Red Bull's junior outfit suffered a turbulent start to their second season in F1. They found finishing races difficult and then mid-season dispensed with the services of U.S. driver Scott Speed.
Sebastian Vettel took over and continues to drive for the team in 2008. He is joined by Frenchman Sebastien Bourdais.
The second half of 2007 saw the team overcome their reliability problems. Any improvement on the eight points they scrapped for last year will be considered a success.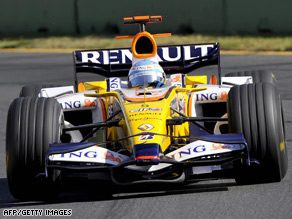 Fernando Alonso has returned to Renault after a tough year at McLaren.
After back-to-back titles in 2005 and 2006, Renault had a dismal constructors' championship in 2007, amassing a paltry 51 points.
This year, the team will be bolstered by the presence of two new drivers: Alonso -- who returns after his unhappy season with McLaren -- and the Brazilian Nelson Piquet Jr -- son of three-time world champion Nelson -- who graduates from his test driver status in 2007.
Having been bought out by a consortium led by Indian billionaire Vijay Mallya, the Spyker team -- formerly Jordan -- assumes a new name.
Adrian Sutil and Giancarlo Fisichella will drive for the new team, which has almost doubled investment to $60 million.
With New Delhi set to be on the racing calendar by 2009, the hope is that Force India will be pushing for a podium place in their inaugural hometown grand prix.
Super Aguri only confirmed their participation in the 2008 World Championship at the end of February.
Their comparatively small budget compared to the bigger teams does not allow their Honda-powered cars to compete for podiums.
The 2007 season was notable after they won their first F1 points at the Spanish grand prix, but 2008 promises to be another monumental struggle.
E-mail to a friend

All About Fernando Alonso • Rubens Barrichello • Robert Kubica • Felipe Massa • Kazuki Nakajima • Nelson Piquet Jr. • Kimi Raikkonen • Nico Rosberg • Takuma Sato • Sebastien Bourdais • Sebastian Vettel • Jenson Button • David Coulthard • Giancarlo Fisichella • Lewis Hamilton • Nick Heidfeld • Heikki Kovalainen