(CNN) -- Spitz's haul of seven gold medals in Munich in 1972 -- four in individual events, three in team competitions -- remains the greatest tally ever achieved by an athlete at a single Olympiad.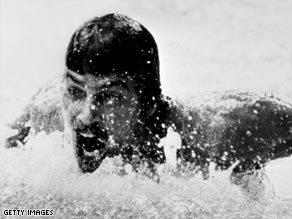 Spitz set seven world records and won a record seven gold medals in 1972.
Only three other Olympic competitors -- Larysa Latynina, Paavo Nurmi and Carl Lewis -- have equaled his overall total of nine gold medals, making him not only the greatest swimmer of all time, but one of the most successful Olympians as well.
Spitz was taught to swim at the age of 2 by his father Arnold.
"You should have seen that little boy dash into the ocean," his mother Lenore later told reporters. "He'd run in like he was trying to commit suicide."
By the age of 10 he already held one world record -- for 50-meter butterfly -- and had been voted the world's best swimmer in his age group. "Swimming isn't everything," his father told him. "Winning is."
As a teenager he continued to excel at the sport, breaking a succession of world records, and at the 1968 Mexico City Olympics, aged only 18, won two golds, a silver and a bronze.
It was typical of Spitz's drive and ambition that at the time he considered this to be a disappointment (before the Games he himself had predicted he would win six golds).
If the 1968 Olympics failed to live up to his high expectations, the Munich Games four years later more than compensated.
Unprecedented seven
Sporting his trademark moustache, he won an unprecedented seven gold medals, triumphing in every event he entered and in the process setting seven new world records (over his entire career he set a staggering 32 world records).
Olympic record
1968
-- 2 gold (4x100 meter and 4x200 meter freestyle relay), 1 silver (100 meter butterfly), 1 bronze (100 meter freestyle)
1972
-- 7 gold (200 meter butterfly, 200 meter freestyle, 100 meter butterfly, 100 meter freestyle, 4x100 meter freestyle relay, 4 x 200 meter freestyle relay, 4 x 100 meter medley relay)
Monumental as it was, his achievement was overshadowed by wider events.
On September 5, only hours after he had won his seventh gold -- for the 4x100 medley relay -- Palestinian terrorists entered the athletes compound, shot dead two Israeli athletes and took a further nine hostage, all of whom were subsequently killed in a bungled rescue operation.
A Jew himself, Spitz left Munich immediately, before the final closing ceremony.
On his return to the U.S. he was treated as a hero, winning numerous lucrative endorsements and enjoying a brief, though not particularly successful showbiz career.
In 1989, 17 years after his Munich triumph and having long retired from competitive swimming, he shocked pundits by returning to the pool to try out for the 1992 Olympics. He failed to make the U.S. team.
He is married with two sons and now runs a successful real estate business in Beverley Hills.
E-mail to a friend