(CNN) -- It was the moment when athletics lost its innocence.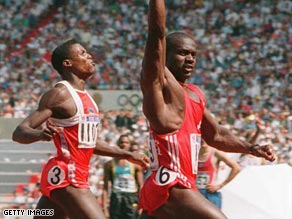 Johnson, right, finished several meters clear of archrival Carl Lewis.
Performance-enhancing steroids were nothing new to the sport in 1988, but most associated them with shadowy, state-run Eastern Bloc sports programs, or viewed them as the last resort of desperate athletes struggling among the also-rans.
But Ben Johnson was the 100 meters world record holder; a world champion. In short, the fastest man the world had ever seen.
At the world championships in Rome in 1987, the Jamaican-born Canadian had smashed the 100 meters world record by winning in 9.83 seconds.
His clash with Carl Lewis, the golden boy of athletics who was seeking to repeat his four winner's medals in Los Angeles, was therefore the race that everybody wanted to see at the Games in Seoul, South Korea, a year later.
As the sprint rivals, separated by two lanes, settled on the start line, a global audience of millions held their breath. Seconds later, it seemed they had witnessed history.
Johnson left the blocks with an explosive burst of power, leading all the way to the line and finishing several meters clear in a new world best time of 9.79 seconds.
He had even had time to slow slightly, look across at Lewis and raise an arm in triumph as he crossed the line.
"If I had gone through I would have got 9.75 -- but I'm saving that for next year," said Johnson, who claimed that only the gold medal mattered.
"No one can take it away from me," he added.
Sent home in disgrace
Three days later, Johnson's words would backfire spectacularly when he was stripped of his cherished medal and sent home in disgrace after testing positive for performance-enhancing drugs.
Although he claimed innocence, arguing that a health drink had been spiked, there was little sympathy for his case.
Immediately declared a cheat by the Canadian media, the affair was described as a national tragedy by Prime Minister Brian Mulroney.
For Lewis there was at least the satisfaction of claiming his second 100 meters title, and having his time of 9.92 seconds recognized as a world record after Johnson had been stripped of all his previous records and medals.
There were also repeat gold medals in the long jump and the 4x100 meters, although a silver medal in the 200 meters meant that Lewis fell just short of his Los Angeles haul.
As well as losing the title that meant the most to him, Johnson was banned from competition for two years.
He returned to the Olympics in 1992 in Barcelona, but failed even to make the 100 meters final.
Increasingly bitter -- he would later claim that the margin of his victory in 1988 meant that he would have won even if he hadn't used drugs -- Johnson tested positive for doping again in 1993 and was banned, despite numerous failed appeals, from racing for life.
E-mail to a friend

All About Olympic Games • Drugs in Sports • Ben Johnson