(CNN) -- For the record, a Romanian called Maricica Puica won the women's 3,000 meters final in Los Angeles in 1984.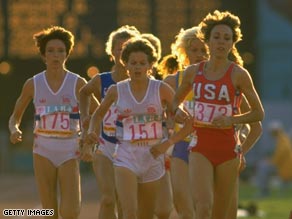 Decker, right, leads Budd, center, before their fateful clash.
Yet few people paid much attention to the race beyond the moment, just past halfway, when Mary Decker's and Zola Budd's worlds collided.
Decker was the reigning 3,000 meters world champion and the golden girl of American athletics, racing in front of her home fans in sunny California.
After missing the 1976 Games due to injury and being denied in 1980 by the U.S. boycott of Moscow, Decker's moment had finally arrived.
Budd had endured her own trials and tribulations to reach Los Angeles. The slight South African was still only 18 yet she had already been at the center of a media storm after leaving her home country, ostracized from the sporting world during the apartheid era, to claim a fast-tracked UK passport and a place in the British Olympic team.
Back home in Bloemfontein, Decker had been one of Budd's childhood heroes, but the barefooted teenager was not so in awe of her idol as to believe that she couldn't beat her.
Decker had led for the first half of the race, tracked by Budd on her shoulder. But with the rest of the field tagging on behind, the South African was worried that the race was too slow and decided to lift the pace.
As she accelerated past Decker on the outside of the bend and tried to cut in front of the American disaster struck.
Off balance
Bumped out of her rhythm, Decker caught Budd's trailing left foot on her thigh. Off balance, Budd swayed to the left and was clipped on the back of her calf by the American's right foot. Tangled up with Budd's left leg, Decker tumbled into the infield, pulling the number off Budd's back as she fell.
Curled in a heap, pain prevented Decker from getting up and continuing. Partly a physical consequence of her fall, it was also partly due to the knowledge that another chance for Olympic glory had slipped away.
Budd initially seemed undamaged by encounter, continuing to lead, but the jeers and boos of the partisan crowd soon affected her, and she faded to finish seventh with tears down her face.
"I had to finish the race," said Budd. "What I couldn't endure, however, was the thought of facing all those people on the rostrum. It sounds easy to say, but I knew once the race had started that I was good enough to win a silver or bronze medal.
"Deep inside me, though, was now a dread of standing on a rostrum, and I began running slower and slower. People passed me and I didn't care -- everything had collapsed and I just wanted out."
After the race, Budd made her way over to Decker to inquire whether she was OK, and perhaps also to apologize. "Don't bother," snapped Decker as she disappeared down the tunnel.
An instant debate raged over who was at fault for the incident. Some said Budd had cut in too early, but others argued responsibility lay with the following runner -- Decker.
Perhaps the only certain conclusion is that both lacked experience of running in a pack under the pressure of an Olympic final. Ironically, Decker had been so dominant during her career that she had rarely had to worry about runners in front of her. At 18, Budd was still learning her sport.
Initially, Budd was disqualified after being called for a foul, yet she was reinstated on appeal. And although Decker almost immediately adopted the role of wounded victim, she would write to Budd five months later to apologize for her conduct after the race.
Both runners' careers would be defined by the moment.
Decker beat Budd three times the following season and also went to the Seoul Games in 1988, although she performed without distinction.
Budd continued to run for a few years with moderate success, yet she never settled in Britain where she was methodically targeted by anti-apartheid protesters because of her refusal to speak out against the regime in her homeland.
Demoralized and depressed, she returned to South Africa in 1988 and gradually withdrew from athletics.
E-mail to a friend

All About Olympic Games • Running