(CNN) -- The fact that modern long distance running is so closely associated with athletes of east African origin is largely due to Abebe Bikila's pioneering success in Rome in 1960.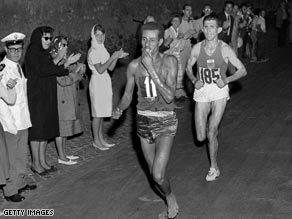 Bikila runs barefoot to victory in Rome.
On a warm, late summer's evening, the barefooted Ethiopian ran nimbly across the ancient cobbles of the Appian Way to win the men's marathon underneath under the shadow of the Coliseum.
In doing so, Bikila became the first black African Olympic champion, and in one of the Games' most prestigious events. Not only that, Bikila had broken the world record and knocked almost eight minutes off Emil Zatopek's previous Olympic best of 1952.
Given the ease of his victory, it seems incredible that Bikila was not even considered a genuine medal contender in the run-up to the event. He had run two hours, 21.23 minutes a month before the Games but that effort had been at altitude and close to home in Abbis Adaba.
Certainly there also still existed a misguided sense of superiority among athletes from wealthier parts of the world. The fact Bikila -- who served as a bodyguard for Ethiopian emperor Haile Selassie in his day job -- chose to run without shoes only added to the impression that he was not to be taken seriously.
For the first half of the race, Bikila seemed happy to hang back, letting the European runners decide the pace.
Finally, at the halfway mark, he joined forces with Moroccan Rhadi ben Abdesselem to launch a devastating attack.
Within a few kilometers the rest had given up the chase. Finally Abdesselem broke as well, leaving Bikila to finish more than half a minute clear in a world best time of 2:15.16.
Yet Bikila's success was about more than just winning a running race. In the era of post-war de-colonization, Bikila was proving a point in the capital of a country that three decades earlier had invaded his own in one of the last and most ill judged episodes of European colonial conquest.
Arch of Constantine
Whereas once Mussolini's troops had marched through the Arch of Constantine en route to Abyssinia, now Bikila passed beneath that symbol of imperial conquest to claim a gold medal for the continent that had become a byword for colonial exploitation.
"I wanted the world to know that my country, Ethiopia, has always won with determination and heroism," said Bikila.
Bikila would display those qualities again four years later in Tokyo, lowering his own world best to 2:12.12 -- wearing shoes this time -- to collect his second gold medal.
Incredibly Bikila had undergone an appendectomy just weeks before, while his preparations had also been disrupted by a spell in prison for his alleged role in a conspiracy to overthrow the Ethiopian government.
The 1968 marathon in Mexico City proved, however, a race too far. Determined to defend his title, Bikila competed despite a hairline fracture in his foot. But after leading for the first 17 kilometers, Bikila limped out of the race and ended his Olympic career in an ambulance.
Bikila's life would end even more tragically. In 1969 a car accident left the greatest marathon runner of all time paralyzed from the waist down. Confined to a wheelchair, he died aged 41 from a brain hemorrhage in 1973.
E-mail to a friend

All About Olympic Games • Running • Ethiopia