(CNN) -- Among the many memorable moments associated with the Olympic marathon, none are more infamous than Dorando Pietri's failure to win the race in London in 1908.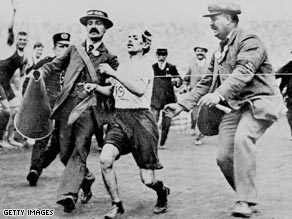 Pietri is helped toward the finishing line in 1908.
"Such is the power of a good story that for every thousand people who know Dorando's name, not even one is probably able to say who officially won the London marathon," said British gold medalist Harold Abrahams in 1924.
Previously set at a rough 40 kilometers -- the distance from Marathon to Athens that Philippides had fatally run in Greek legend with news of the Athenians' victory in battle over the Persians -- the 1908 marathon had been stretched to 26 miles (41.6 kilometers) to cover the distance from Windsor Castle to the Olympic Stadium at White City, west London.
With Queen Alexandra due to attend the Games that day, a further 385 yards were added to bring the finishing line right underneath the royal box -- the final distance of 42.195 kilometers has remained the marathon's standard length ever since.
Those extra few yards would prove to be Pietri's downfall -- and his making as an international celebrity.
An experienced long distance runner, the Italian had taken the lead a mile from the finish and, entering the stadium alone to huge cheers, he appeared all set to collect the gold medal.
Barely conscious
But Pietri barely seemed conscious of his surroundings. Turning the wrong way onto the track, he staggered a few yards and collapsed to the ground.
Helped to his feet and pointed in the right direction, he managed only a handful of feeble steps before losing his balance once again -- a pattern that was repeated several more times as Pietri edged painfully toward the finish.
Eventually, just as John Hayes of the United States reached the stadium, Pietri was virtually carried across the line by officials, accompanied by wild applause from the crowd.
It would be several hours before Pietri recovered enough to learn that he had been stripped of his medal for receiving outside help -- a decision preceded by angry arguments between officials and greeted by outrage in the stands.
Hayes was the Olympic champion, yet Pietri had won London hearts. He was presented with a specially commissioned gold trophy by Queen Alexandra while his failure was celebrated in song by Irving Berlin.
A lucrative racing career in the United States followed but -- however many races he won and however many times he beat Hayes -- Pietri remained the man who lost the marathon.
E-mail to a friend

All About Olympic Games • Long-Distance Running