(CNN) -- Top seed David Ferrer defeated Juan Martin Del Potro 7-6 6-1 to set up a final against unseeded Frenchman Marc Gicquel in the Ordina Open in Den Bosch.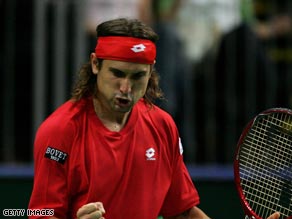 Top seed Ferrer has lost his two previous meetings with Gicquel.
Gicquel rallied to beat Guillermo Canas 3-6 6-0 6-4 to give himself the chance of claiming his first ATP title in a nine-year career.
The 31-year-old, who will be competing in a final for the third time, has beaten Ferrer in their two previous encounters, at Metz in 2006 and at Lyon in 2005.
Gicquel won four of five break points against the seventh-seeded Canas.
Ferrer, ranked fifth in the world, never dropped his serve against Del Potro.
Defending champion Ivo Karlovic defeated Gael Monfils of France 7-6 7-6 to reach the final of the Nottingham Open.
Each player lost their serve twice at the Wimbledon warm-up tournament. Fourth-seeded Karlovic served 11 aces, but the eighth-seeded Monfils could not manage one.
In the final Croatian Karlovic will face third-seeded Fernando Verdasco of Spain, who beat another Croat, Marin Cilic, 6-3 6-1.
E-mail to a friend