(CNN) -- Tyson Gay ran a wind-assisted 9.68 seconds for the fastest 100 meters of all time as he won the sprint final at the US Olympic Track and Field Trials in Eugene, Oregon.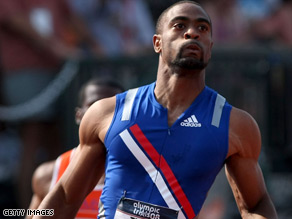 Gay's time was the fastest recorded in any conditions.
The world 100 and 200 champion clinched his trip to the Beijing Olympics with a victory helped by a 4.1m/sec tailwind and surpassed a 9.69 run by Obadele Thompson of Barbados in 1996 that was helped by a 5m/sec breeze.
"It means a lot to me," Gay said. "I'm glad to know my body can go that fast. I know I can do it now. I was thrilled."
The wind rules out an official world record but Gay's time was faster than the 9.72 mark set in New York on May 31 by Jamaican Usain Bolt, which broke Jamaican Asafa Powell's previous record of 9.74.
"I wasn't disappointed," Gay said. "I was concentrating on making the Olympic team. You could feel the wind picking up in the blocks. I've run enough to know when it's a wind-aided race. It really didn't matter to me."
London is the only confirmed meet before Beijing for Gay, whose goal is to complete a 100-200 golden double in China as he did in last year's world championships at Osaka. The 200m qualifying starts Friday.
The 2004 Olympic and two-time world long jump champion Dwight Phillips did not earn a place in Beijing.
Trevell Quinley won the event with an 8.36m leap with 2006 US champion Brian Johnson second at 8.30, Miguel Pate third at 8.22 and Phillips fourth on 8.20.
World pole vault champion Brad Walker reached his first Olympics by placing third in 5.65m behind unheralded Derek Miles, who cleared 5.80, and 40-year-old Jeff Hartwig, second at 5.70. Russ Buller, fourth on 5.60, pulled out injured.
Reigning Olympic champion Veronica Campbell produced a world-leading 21.94 seconds to win the women's 200 meters at Jamaica's Olympic track and field trials on Sunday.
Campbell, who took gold in Athens in 22.05, made up for finishing a disappointing fourth in the 100m on Saturday.
She said that Saturday's 100m defeat motivated her to run her personal best in the 200m.
E-mail to a friend