(CNN) -- American cyclist Kristin Armstrong added the Olympic time trial gold medal to her 2006 world title with a triumph in Juyongguan on Wednesday.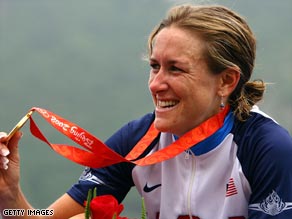 Armstrong came from four seconds behind Pooley to take the gold medal.
Briton Emma Pooley took the silver and triathlon specialist Karin Thurig of Switzerland collected a second successive Olympic bronze in the event.
Pooley set a daunting pace on the nine-kilometer ascent to the 10.8km first time check and led Armstrong by nearly four seconds.
But the American, who is no relation of the great Lance Armstrong, battled through a strong wind on the downhill and flat sections to win in 34 minutes 51 seconds.
"The Olympic Games is every four years and this race is one day and you cannot give up until you cross that finish line," said Armstrong.
"Someone told me at the top that I had the best time, but I really couldn't celebrate until the last person crossed the finish line."
Pooley had the fastest time over the first half of the course but expected to come under pressure over the rest of the trip.
Predictably both Thurig, who was 36 seconds behind at 10.8km mark, and Armstrong gradually closed in.
Meanwhile, Fabian Cancellara of Switzerland won gold in the men's road cycling time-trial, adding to the bronze he took in the men's road race.
Cancellara, the double time-trial world champion, completed the 47.3-kilometer (29.4-mile) course in one hour, two minutes, 11.43 seconds.
By the halfway point, Cancellara had already overtaken Stefan Schumacher of Germany -- arguably his biggest rival after beating him in both the Tour de France time-trials this year -- who started 90 seconds ahead of him.
However, unheralded Swede Gustav Larsson rode an amazing race and at one point looked set for victory. He eventually settled for silver, 33 seconds behind Cancellara.
"I hoped for a race like this. I knew the course suited me well. I rode the race of a lifetime, but he (Cancellara) is strong," Larsson said. American Levi Leipheimer fought back at the end of the race to take the bronze.
It was disappointing for some of the race favorites, including Giro champion Alberto Contador of Spain -- who finished fourth -- and Tour runner-up Cadel Evans of Australia, who leave Beijing without a medal. "No medal, despite all that hard work," lamented Evans, who came in fifth.
A total of 39 riders from 29 different countries took part in Wednesday's competition.
E-mail to a friend