People were invited to e-mail their comments on the 2008 Beijing Olympics. Below is a selection of responses.
(CNN) -- I thought it was absolutely fantastic, the enthusiasm of the people, the logistics. I like it even more because there has been so much doom-saying and criticism in the run-up to these games. There must be a few very frustrated marathon runners who could have set a new world record in the terribly polluted air of Beijing but decided not to compete, not to mention so many journalists that wished the games to end up in a disaster. The people in the cities hosting Olympic events and BOCOG deserve praise. The IOC, in my opinion, deserves even more praise for choosing Beijing and sticking to its decision despite all the criticism.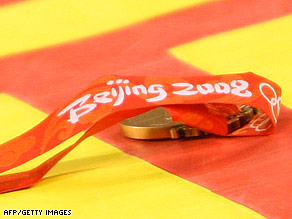 Go China! Go!
Laurentius Metaal
GM Projects
Western Way For Industrial Development Co. Ltd.
Of course the show was without equal, for which congratulations are well deserved. HOWEVER, the spending of $40 billion in the face of abject rural poverty, the clandestine treatment of local gymnasts' ages, the lip-synching+re-editing of the opening ceremony and the shipping-off of near-octogenarian women to labor camp after filing an unwanted eyesore of a protest "application" as only a FEW examples, show that while we can admire China's cosmetic ability to show itself off, we MUST be wary of the beast within. Thank you for the greatest Olympics ever, China! Now, can we see some freedom for your people and some more balanced economic development?
John
Jakarta, Indonesia
I think that the International Olympic Committee made a tragic mistake when they awarded the Olympic games to the Chinese. The Chinese have a ... track record of human rights violations that only increased before and during the Olympics. It was disappointing that many media outlets covered so little of the atrocities that the Chinese government committed against their people. I realize that they had a commitment to cover the games, but so much more could have been shown concerning the loss that occurred for the entertainment of others. Homes were seized and demolished so the venues could be built.
Michele McCullough
I think it was perhaps the best Olympics ever. China did an outstanding job of preparing and producing a very successful two weeks of competition on a world-class level. I would hate to be London and have to try even matching the spectacle or the opening and closing shows. Because of people power, which they used brilliantly, I think no other country will ever hold a candle to those two events.
Mostly, I am happy for China. I think the world will view it differently despite issues in which we differ greatly. I am hopeful that the afterglow of its success will spill over into many other areas and bring a better future to its people.
Wallace Rhodes
I don't know why the medal tracker is not done on a weighted point-based system. For example a Gold = 5, Silver = 3, and a Bronze = 1.
This would eliminate the debate and allow gold to be valued higher and all medals to count for something.
Cheers,
Mike K
I think the games were great, but why shouldn't they be? With a country whose government can control everything and spend what it wants, everything should have been perfect. In a country with the the number of people that China has there should be an amazing number of gold ... perhaps even more. Thing about the number of people in China vs Canada. Percentage-wise China should have won a lot more.
I'm glad that the games went well, but I don't think anyone should be at all surprised. Few countries have the number of people, the freedom for government control and spending that China has. It would be interesting to know what China could have done / would have done without government control.
Dan Ingram
Toronto
Participant age controversies and government ideologies aside, this could well have been the greatest Olympics of the modern age. With less pomp and ceremony and more art and talent, the Chinese have brought together both its people, its money, and its true concern for artistic beauty, and displayed to the world what it is capable of being. Now, if it would let its people figure out how to develop and illustrate their Olympic talents without the force and pressure of the whole weight of government, we could surely have some wonderful Olympic Champions.
Thank you,
Joel Shattles
Lawrenceville, Georgia, U.S.
A spectacular Olympics to be sure (however not the greatest cover of events on local TV in Bermuda... Thank goodness for my satellite dish !!) Only real complaint was that the scoring for boxing was a travesty ... Please scrap that system !!
Donald MacPherson
Bermuda
Without a doubt, China put on the most spectacular show on earth! However, the issue of many of China's gymnastic team not meeting age-requirement standards is of concern. Mention of this issue has been reported by CNN, and since no further commentary has been announced, I presume the issue is still under investigation.
Evidence that under-age gymnasts were knowingly being trained for China's Olympic gymnastic team is well documented in Discovery Channel's series - Discovery Atlas - China. In that documentary is the story of Jin Yang, a 12-year-old girl from Beijing. Her intensive training, along with her performance in China's qualifying Olympic trial competition, was filmed. In her own words, Jin stated, 'I dream of the 2008 Olympics.' Jin Jang qualified after the first round, but was eliminated after the second one.
Clearly, this is irrefutable evidence that China's Olympic coaches, etc., were attempting to create the most talented Olympic competitors irrespective of meeting age-requirement standards set by Olympic committee regulations. This evidence needs to be presented not only to the world at large, but submitted to the Olympic investigating committee.
Sincerely,
Sandra St John
Sao Paulo, Brazil
Olympic Games; vulgar and shameful display of unrestrained commercialism.
Luis in Mexico
I think they were great. China may have its share of problems, but they proved to be an excellent host nation. I wish the Olympics were less politicized, but I guess that will not be changing anytime soon.
W May
Fairfax, Virginia, U.S.
E-mail to a friend