(CNN) -- Valentino Rossi moved further ahead in the MotoGP standings with his third successive race victory as world champion Casey Stoner crashed out again in San Marino on Sunday.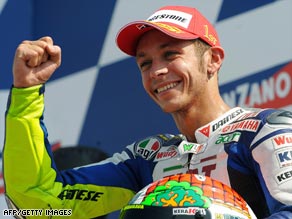 Valentino Rossi moved 75 points clear at the top with his record-equaling 68th race victory.
Pole sitter Stoner, whose lapse in Brno handed the Italian victory in the previous race, lost control of his Ducati under no pressure while leading on lap six to allow Rossi to complete a three-second win ahead of Yamaha teammate Jorge Lorenzo.
Rossi equaled the record of 68 career race titles in motorcycling's premier class previously held solely by Giacomo Agostini.
He increased his lead in the world championship standings to 75 points over second-placed Stoner with just five races left.
The Australian had seemed set to keep the title race alive after starting from pole for the seventh consecutive time, and had built a three-second lead after the second lap.
Don't Miss
But he lost control of his bike and slid into the gravel trap to gift Rossi the lead, and is now only two points ahead of Dani Pedrosa after the Spaniard finished fourth behind compatriot Tony Elias.
"It is incredible to get three in a row," Rossi told BBC Sport. "It was another great battle with Stoner -- we know that Stoner is very strong.
"To win my 68th race in my home town is incredible. I saw Giacomo Agostini before the race, and he was laughing. So I said to him I would try to win today.
"We have a great advantage and we are one race closer to the title. Last year, in these three races, I took nine points, this year 75, so it's not too bad."
Earlier, Spain's Alvaro Bautista won the 250cc race from 11th on the grid while Hungary's Gabor Talmacsi took the honors in the 125cc event.
MotoGP results from San Marino:
1. Valentino Rossi (Italy) Fiat Yamaha 44min 41.884sec
2. Jorge Lorenzo (Spain) Fiat Yamaha at 3.163
3. Toni Elias (Spain) Ducati 11.705
4. Dani Pedrosa (Spain) Honda 17.470
5. Chris Vermeulen (Australia) Suzuki 23.409
6. James Toseland (Britain) Yamaha 26.208
7. Loris Capirossi (Italy) Suzuki 26.824,
8. Andrea Dovizioso (Italy) Honda 27.591
9. Marco Melandri (Italy) Ducati 33.169
10. Colin Edwards (United States) Yamaha 36.529
Drivers' standings:
1. Rossi 262 points
2. Casey Stoner (Australia) 187
3. Pedrosa 185
4. Lorenzo 140
5. Dovizioso 118
6. Vermeulen 110
7. Edwards 108
8. Shinya Nakano (Japan) 87
9. Capirossi 86
10. Toseland 85
E-mail to a friend