MONZA, Italy -- McLaren's appeal against the 25-second sanction which cost Lewis Hamilton victory in the Belgian Grand Prix last Sunday, will be heard in Paris on September 22.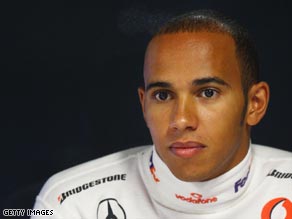 Hamilton was demoted from first place to third after the stewards' ruling.
The International Motoring Federation (FIA) confirmed the date in a statement issued on Friday.
The governing body's International Court of Appeal will meet in Paris on the Monday before the Singapore Grand Prix for the hearing.
A decision is likely to be announced on the following day.
The legality of an appeal has been questioned because 'drive-through' penalties cannot be contested. This point is likely to be discussed at the hearing as Hamilton was given a retrospective time penalty.
Hamilton was alleged to have gained an advantage by going off track and into a safety area when attempting to pass defending drivers world champion Kimi Raikkonen of Finland, who defended his position at the Bus Stop chicane during the Belgian Grand Prix.
Hamilton rejoined in the lead but immediately handed back the advantage to Raikkonen, who soon afterwards crashed off the track and out of the race.
McLaren said they were told twice by the 'race control' officials that Hamilton's move was "okay".
Hamilton had already paraded on the podium as the winner of an exciting race when the verdict was delivered and he was relegated to third.
Ferrari's Felipe Massa, who had scarcely been in contention as Raikkonen and Hamilton fought out their struggle up front, was declared the winner, with Nick Heidfeld promoted to second place.
Many onlookers were unimpressed by the stewards' ruling and Austria's three-time world champion Niki Lauda said the verdict was "the worst in the history of the sport".
E-mail to a friend