(CNN) -- Gilles Simon of France retained the BCR Open Romania title by beating Carlos Moya 6-3 6-4 in Sunday's final in Bucharest.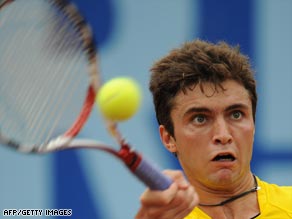 Simon won the fifth title of his career by retaining the Romanian crown.
The second-seeded Simon broke the Spaniard at 3-2 in the first set and saved all six break points he conceded in the match to secure his fifth career title.
The final only lasted about 90 minutes, just half the time it took Simon to defeat eighth-seeded Jose Acasuso of Argentina in Saturday's semifinal.
Simon beat local favorite Victor Hanescu in last year's final, and has an 11-1 record in Bucharest.
Patty Schnyder, of Switzerland beat Austria's 17-year-old Tamira Paszek 6-3 6-0 to win the Bali Classic in Indonesia.
The win was the 500th singles victory of Schnyder's career and her 11th title, but her first in more than three years.
Since taking the title Cincinnati in July 2005, she has finished runner-up in seven tournaments.
Paszek, who beat three seeds in Bali, last picked up a title in Portoroz in September 2006.
Schnyder said: "She pushed me all the way and I had to do my best and move well. She would not allow me to lose my focus."
Paszek said:"Patty played amazing today. She really deserved to win. I had a couple of tough matches this week and I'm a little tired and feel it in my legs."
E-mail to a friend