(CNN) -- International Olympics Committee president Jacques Rogge has confirmed his intention to stand as a candidate for a second term in the position.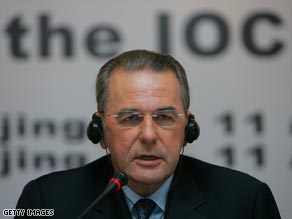 Belgian Rogge has been president of the IOC since taking over from Juan Antonio Samaranch in 2001.
The 66-year-old Belgian told a Brussels press conference: "For two or three years journalists have been asking me the same question concerning my future.
"I always replied by saying that I'd deal with it after the Beijing Games. On Friday, as the regulations stipulated, I informed IOC members of my decision and I will be a candidate for a second mandate," added Rogge.
Rogge identified two key issues facing the IOC -- the ongoing fight against drugs and the drive to get more young people to take up sport.
"The number one priority remains the battle against doping which we have to maintain," he stressed. "Secondly I want to see us getting even more young people involved in sport to combat against a sedentary lifestyle and obesity.
"This must be the other major objective for the IOC in the next few years."
Rogge defended his performance as IOC chief saying: "I think that I've been useful over these past years and I think that I can be useful to the IOC again in the future."
Since taking over from Juan Antonio Samaranch in 2001 Rogge has stood firm on drugs, corruption and betting. He also initiated the youth Games with the inaugural edition set for Singapore in 2010.
The former surgeon's comments came after confirmation last Friday from the IOC that his name would be in the ring for a second term when the election is held at the IOC's congress in Copenhagen between October 3-5 in 2009.
Since being elected on an eight-year term Rogge is now only eligible to preside over sport's most powerful institution for a further four years.
E-mail to a friend