Neale Graham
For CNN





LONDON, England (CNN) -- At the age of 23 years and 301 days, Lewis Hamilton has become the youngest Formula One world champion in the sport's 58-year history.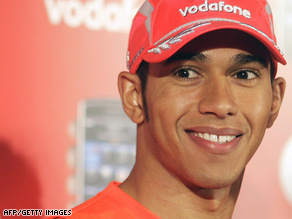 Lewis Hamilton is F1's youngest champion, but he's a long way off the sport's true greats.
But if Hamilton is now the youngest world champion, how far off the best F1 driver of all time is he?
Six multiple world champions can lay claim to be the best the sport has ever seen and, as The Circuit will reveal, the young Englishman still has a long way to go to match their achievements:
Michael Schumacher (1991-2006)
Seven world titles (1994, 95, 2000, 01, 02, 03, 04)
Statistically, Schumacher is the greatest F1 driver of all time: seven world titles, 91 wins, 68 pole positions, 76 fastest laps across a 250-race career. There is no one who can touch the German when it comes to cold, hard facts. Read more about F1 at The Circuit.
And cold and hard was how he raced -- you do not get to be as successful as Schumacher without making a lot of enemies on the way. Controversy was never far from his wheel-tracks and, like Ayrton Senna before him, he pushed the limits of what was acceptable on a racetrack at times.
But while his tactics and style could be questioned, his genius was beyond doubt. He could win races from anywhere on the grid, was masterful in the rain and made bad cars look good. In short, the complete racing driver.
Alain Prost (1980-1991, 1993)
Four world titles (1985, 86, 89, 93)
If Senna was the heart, Prost was the head. Dubbed 'The Professor', Prost was able to win races he probably should have by out-smarting more instinctive and hot-headed racers. Who is the best F1 driver of all time?
He would often play the percentages, doing what was necessary to reach his desired goal -- four world titles and 51 race wins testifies it was an approach that paid dividends.
A career that overlapped with Senna's was always going to mean he was not as dominant as he might have otherwise been. The pair's 1988 season as McLaren team-mates, when between them they won all but one of the 16 races that year, was the sport's top two in the top car at the top of their games.
France's Prost is not loved like Senna, but he is deeply respected and, when required, was every bit as good as his bitter rival.
Ayrton Senna (1984-1994)
Three world titles (1988, 90, 91)
Senna's legend lives on, almost 15 years after his death at San Marino, a crash that changed F1 forever. But in the decade before it, he set about creating that legend with scintillating drives -- and morals -- that defied belief.
Don't Miss
From the moment the Brazilian starred at a rain-shortened Monaco Grand Prix in 1984, the sport knew that a special talent had arrived. Senna appeared driven by a higher power, as if on a mission from God to make the world aware of his gifts for driving faster than any man before him.
Devastating over a single lap, his record of 65 pole positions looked like it would stand for good until Schumacher's sheer longevity beat it. Senna's many battles with his nemesis Alain Prost have gone down in the annals, some of them less than clean-cut, all of them -- like the man himself -- memorable.
Jackie Stewart (1965-1973)
Three world titles (1969, 71, 73)
Stewart's legacy on the sport is arguably more impressive than his feats on the track. Racing in an era when the chances of a driver who raced for five years being killed were two out of three, the Scot was the first to champion safety requirements, even the basics such as crash barriers and seat belts.
But despite the dangers, Stewart was fearlessly fast and was rewarded with three world titles and 27 wins, a victory record that was not broken until Prost a decade-and-a-half later. As with all great drivers, consistency in lap times was the key to Stewart's success.
He was able to win in all weather conditions and raced in an era of some of F1's greatest and most evocative names, lending further weight to any claim putting him in the top five drivers ever. Stewart's shrewd approach earned him big money off the track and it saw him retire, unharmed, at 34 while still at the top of his game.
Jim Clark (1960-1968)
Two world titles (1963, 65)
Like his protégé Stewart, Clark was a Scot born to drive fast. Clark dominated F1 in the 1960s, as the statistics bear out: two world titles, 25 wins (from just 73 races) and 33 pole positions, all an F1 record upon his untimely death in 1968 aged 32 in an F2 race at Germany's Hockenheimring.
Clark excelled at setting his car up to do as he wanted -- an important skill in F1 -- which would prove vital during arguably his finest hour, the 1967 Italian Grand Prix.
Having started on pole, Clark had led, but a pitstop necessitated by a puncture dropped him to 16th and he lost a lap. He set consecutive fastest laps in scything through the field, first getting back onto the lead lap, then regaining the lead. Only a lack of fuel denied him the win, but third place was some consolation for his brilliance.
Juan Manuel Fangio (1950-1951, 1953-1958)
Five world titles (1951, 54, 55, 56, 57)
Until Schumacher arrived on the scene, the thought of anyone winning more than Fangio's five world titles was preposterous. But 'The Master' claimed his in just eight years and with four different teams, making a point of winning races at the slowest possible speed.

His wins-to-start ratio -- with his 24 victories chalked up in only 51 races -- is the best of any F1 driver in history and will almost certainly never be beaten. Fangio is still viewed by many as the best ever, not least because his achievements came when he was past what is considered a driver's prime.
Already 40 when winning his first drivers' crown in 1951, Fangio was still going strong seven years later when winning title number five.
E-mail to a friend