By Neale Graham
For CNN





LONDON, England (CNN) -- Formula One calls itself as a world championship. Yet going into 2009, it does not have races in North America, Africa or India.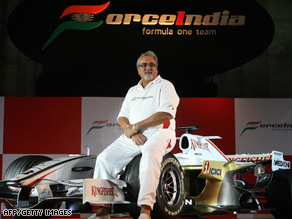 Vijay Mallya's Force India team carries the hopes of a nation, but it has struggled to make an impression so far.
The latter discrepancy, though, will soon be righted -- a new circuit near New Delhi will open its doors to F1 in 2011.
That is 12 months later than originally announced, but with a 10-year contract and uber circuit designer Hermann Tilke on board the future is bright for Indian motorsport.
F1 commercial rights holder Bernie Ecclestone realized that F1 could ignore India, a growing F1 powerhouse, no longer. And India will welcome F1 every bit as much as the other way round.
The benefits of aspiring nations joining the F1 calendar are clear: an Indian grand prix could generate around $170m in revenues and employ 10,000 people. Read more about F1 at The Circuit.
Hotels and tourism also get a boost as more international flights arrive, given that certain flyaway events (the races held outside Europe) sell at least 50 percent of their tickets to foreigners.
Singapore, which held the sport's first night race in September, was desperate to get on the F1 calendar to boost its profile as a business and tourist destination.
Its race was funded by public-private partnership and India will probably go down the same route.
"Given the sheer size of India and its booming economy it should be on the Formula One calendar," declared Dr Vijay Mallya, Kingfisher airline and beer tycoon, and owner of the Force India F1 team.
Just as in China, which got its foot on the F1 ladder in 2004, India's love affair with the motor car is growing -- at an average annual rate of 17.2 percent over the last five years. The potential advertising tie-ins between manufacturers and F1 are plentiful.
What F1 needs is for Indians to tune in. Cricket is king in India, and always will be, but it is the country's car-buying middle class -- estimated at 50 million and rising -- that F1 has on its radar.
"An Indian GP would satisfy the legions of Indian fans of the sport who are currently glued to the television on Sundays and turn up in droves at various venues where large viewing screens are put up," said Narain Karthikeyan, who became the country's first F1 driver in 2005.
While India readies itself for F1, F1 is already acclimatizing itself to India in the form of its 'national team.'
But, in spite of a lot of hype, Force India has spent its debut season at the back of the grid, unable to move too much further than the back two rows.
That is not for the want of trying. After buying out Spyker, Mallya almost doubled the team's budget from 2007, although for comparison that is still more than three times less than the $415m of frontrunners Ferrari.
Don't Miss
Force India has spent 2008 attempting to build up a brand-aware support base. With an estimated 500 million people in India under 25, the team has set up a networking site for blogging, as well as a fan club.
Getting Bollywood stars such as Shahrukh Khan on board as brand ambassadors was a smart move and after just four races of the 2008 season Indian television viewership of F1 trebled.
"The launch of Force India, as one of only 10 teams on the Formula One grid, has stimulated the interest in Formula One in India dramatically, and it is getting more and more popular," Mallya said.
And that is just the support for a struggling team. The possibilities with a high-flying, home-grown driver are manifold -- if only there was one on the horizon.
Karthikeyan, 31, spent the 2005 season with the struggling Jordan team, which was Force India in a previous incarnation, then had two years as Williams' test driver.
At present, 24-year-old Karun Chandhok is the most promising Indian racing driver. He has spent the past two seasons in GP2, the feeder series for F1, without pulling up any trees.
Still, a driver's talent has not always been the barometer for his suitability for an F1 seat. The ability to bring cash and exposure from personal Indian sponsors would be a draw, just as Karthikeyan went to Jordan with backing from Tata, India's largest car maker.
Mallya, though, does not want just any Indian driver in his team and has initiated a development program to find one.
"I have committed that Force India will identify and groom an Indian driver to eventually participate in F1 through national and international karting and GP2. I hope to achieve this over a period of five years," he said.
That is for the future and Mallya is well aware that his team are under pressure to perform next year.
As one of the few privateer teams on the grid, Force India are having to buy in certain technology rather than design it themselves. Mallya is close to announcing a 2009 technical partnership with Mercedes, who powered Lewis Hamilton to this year's drivers' world title.
And Germany's Adrian Sutil and the veteran Italian, Giancarlo Fisichella, will remain as the team's drivers for a second year.
"In 2009 I am quite hopeful that we will have significantly better performance, which will then stimulate the level of interest and fans even more," added the optimistic Mallya.
F1 may have Force India, but it will still be some time before India is a force in F1. That day, however, will surely come.
E-mail to a friend