By Neale Graham
For CNN





LONDON, England (CNN) -- In taking the Formula One world championship, Lewis Hamilton was the ultimate winner of 2008.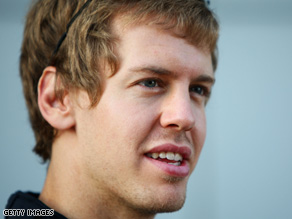 Sebastian Vettel, hailed as the next Michael Schumacher, was an undoubted star of 2008.
But behind the McLaren man's record-breaking title charge, there were a host of other winners -- and losers -- for a variety of reasons.
Here, The Circuit selects three of each in a season that had a bit of everything:
Winners
Felipe Massa
He may not have won the title, but the pint-sized Brazilian won admirers. Not everyone is convinced Massa is the real deal and drives such as Silverstone, when he pirouetted haplessly on five occasions in the wet, add weight to the claims of his doubters. Read more about F1 at The Circuit.
But he won more races than any other driver, put his world champion team-mate in the shade more often than not and was untouchable in Bahrain and Valencia, and unlucky in Hungary and Singapore. There were mistakes as the pressure built, but it's not as if Hamilton turned in a spotless season. Despite all that, Massa's overriding problem is that he may not get a better chance to become world champion than in 2008. Missing that boat will cut deep. Still, a fine year for a much-improved driver.
Singapore
It was a huge step into the dark for a conservative sport built on convention, but F1's first night race was universally acclaimed. The sponsors loved the exposure, TV companies thrived on the novelty factor, the fans enjoyed something different and the drivers approved of the street circuit, which even allowed for overtaking.
Such was the success of Singapore, more floodlit races in Asia are expected to follow in the coming years. But, for now, it remains unique and there is little reason to suggest it won't be the highlight of the 2009 season as well.
Sebastian Vettel
Don't Miss
The first Schumacher-free F1 season since 1991 was not expected to produce a new German winner, let alone the youngest F1 race winner ever. Yet on an oddly wet weekend in Italy, around the historic Monza autodrome, up stepped Toro Rosso's Vettel to produce arguably the drive of the year.
In the trickiest of conditions, pole position was converted into a comprehensive race win, in which Vettel demonstrated the potential that some believe will one day net him a world title. A move to underachievers Red Bull Racing for 2009 now awaits. If Vettel wins for them, expect more of the 'new Michael Schumacher' headlines.
Losers
Max Mosley
For those who enjoy F1's off-track stories as much as those taking place on the tarmac, Mosley's bedroom indiscretions were manna from heaven. The president of motorsport's governing body, the FIA, was secretly filmed by the News of the World, who went on to report that Mosley had engaged in sado-masochistic sexual acts with five prostitutes in a scenario the paper claimed involved Nazi role-playing.
Mosley took legal action against the paper for a breach of privacy and won. But his credibility took an almighty hammering and though many leading figures in the sport called for him to quit, Mosley won a vote of confidence to remain in his position at the FIA.
Kimi Raikkonen
The Finn's title defense never got going. Quickest in pre-season testing, Raikkonen won twice early on, in Malaysia and Spain, but thereafter was scarcely seen again. Occasionally, flashes of his true speed were on display -- as evidenced by 10 fastest laps, a joint single-season record.
But he struggled to qualify the car on the front row enough, just six times in 18 races, and found himself stuck behind slower cars for too long too often. Given his reputed $50m annual salary, the old Raikkonen will need to come to the party in 2009 or he may be pushed before he can jump into early retirement.
Red Bull Racing

There was a time in F1 when the debate centered around who was more important to a team's competitiveness: Michael Schumacher or Adrian Newey. These days Newey is living on past glories from his days with Williams and McLaren in the 1990s. Expensively hired from McLaren in 2005 to design a winning car for Red Bull, he failed to deliver again -- unless you count Vettel's Monza win for sister squad Toro Rosso, who share the same chassis.
Red Bull were shown up by Toro Rosso too often to be mere coincidence as the luckless Mark Webber and the retiring David Coulthard were rarely at the races. Next season they get Vettel, a proven race-winner and a potential champion of tomorrow. The pressure is building.
E-mail to a friend