(CNN) -- England have decided to fly home from their tour of India following the terrorist attacks in Mumbai, but remain committed to returning for the Test series next month.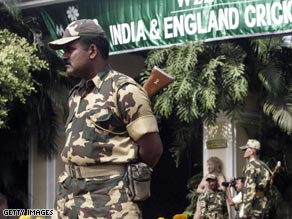 Indian security officers stand guard outside the hotel housing the England cricket team in Bhubaneswar.
Following a series of meetings at their hotel in Bhubaneswar on Thursday, the tourists have elected to cut short their current one-day international series -- which they trail 5-0 with two matches remaining -- and fly home on Friday with a view to returning to India for the first Test in Ahmedabad on December 11.
The second Test was due to start in Mumbai on December 19, and that will still go ahead but with a change of venue -- which is still to be decided.
Hugh Morris, managing director of England Cricket, said: "We want to get back to a home environment which we think will be a good thing for all the players.
"The players know this is a very real thing because only a few weeks ago they were themselves staying in one of the hotels that was attacked.
"Whenever England go to play cricket we have security advice and we act on that advice. If the security advice is it is safe and secure for players and management to go, that is what we will do," added Morris.
"The Test matches are in place and unless we get security advice to the contrary, we will be playing those Test matches. Sadly we're in extraordinary times, and this won't be the normal build-up to a Test series.
"But the Test matches stand and we will be prepared to play them."
Morris confirmed no decision had been made about the date of their return but they were due to play a three-day practice match in Baroda starting on December 5 ahead of the two-Test series.
England's performance squad, effectively the back-up party to the national side, will also "travel home immediately" from India.
"They were due to spend a period in Bangalore before they moved on to Mumbai," said Morris of a squad featuring former England captain Michael Vaughan and spinner Monty Panesar. "Clearly that is not possible and they will return home in due course."
The inaugural Twenty20 Champions League tournament, featuring provincial teams from five countries which was due to start on Wednesday in Mumbai, has also been postponed following the terrorist attacks which have seen at least 125 people killed and hundreds more injured.
Champions League chairman Lalit Modi said of the decision: "We held consultations among all the stakeholders ... (and) it was agreed that in the best interests of all concerned, the inaugural edition should be postponed."
He added: "We very strongly condemn this dastardly and heinous criminal act of a few which has resulted in the loss of precious lives and injury to hundreds. We offer our heartfelt condolences to the bereaved families and we are with them in their hour of grief."
English county side Middlesex canceled a flight to the country for the Twenty20 event after the attacks in India's financial capital.
Australian legend Shane Warne, captain-coach of the India champions Rajasthan Royals, was on a stopover in Singapore en route to Mumbai when he saw news reports on the terror attacks.
"It's unbelievable, the place is chaos. We are heading to Mumbai and that (the Taj Mahal) is the hotel we are staying at. I don't think we will be going to India now -- why would you?
"It is just not worth the risk ," he added. "No amount of money is worth the risk with what is going on over there at the moment."
Cricket Australia halted the departures of the Western Australia and Victoria state teams, along with Test stars Mike Hussey, Matthew Hayden and Shane Watson who were playing for Indian teams.
E-mail to a friend