By Mike Steere
For CNN

LONDON, England (CNN) -- Volvo Ocean Race favorite Ericsson 4 has arrived in Cochin, India to win the second leg of the round-the-world race.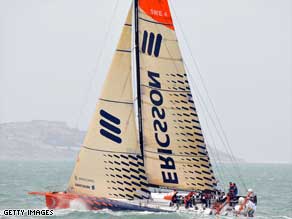 Torben Grael's Ericsson 4 has won the second leg of the Volvo Ocean Race from Cape Town to Cochin.
The victory adds to the crew's first leg win, keeping them on top of the points standings.
Telefonica Blue claimed second place, while Ericsson 3 took third and Telefonica Black, fourth.
Ericsson 4, skippered by Torben Grael has now claimed 26 of the 28 possible points on offer so far. The second leg victory was almost assured a week from the finish when the boat opened up a significant gap on the rest of its rivals.
The second leg saw the fleet pass to the south east of the Gulf of Aden region where pirates have been launching numerous attacks on vessels passing through the area.
All eight boats were being monitored by naval forces in the region for fear of hijacking.
Eight legs, plus several in-port races still remain in this edition of the race, which will run through until July next year.
The next leg begins on 13 December and sees the fleet make a 1950 nautical mile journey to Singapore, where they should arrive just in time for Christmas Day.
Although a relatively short leg, there is also a risk of piracy on this journey, with the South China Sea, the Strait of Malacca, and the waters between west Malaysia and the Indonesian island of Sumatra also being regarded as pirate-infested areas.
E-mail to a friend