(CNN) -- Honda are expected to make a formal announcement on their future in Formula One on Friday, amid widespread reports that they are set to leave the sport.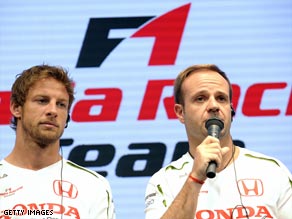 Jenson Button (left) and Rubens Barrichello will be out of a job if Honda confirm their F1 withdrawal.
The team's senior staff are reported to have been informed at a meeting on Thursday that the Japanese car maker is no longer willing to bankroll the outfit.
It is suggested the team will be put up for sale, and if no buyer is found by the end of the month the manufacturer will withdraw from F1.
Any such move would send shockwaves through the sport and cast question marks over the future of other manufacturers in the current uncertain financial climate.
FIA president Max Mosley warned earlier this year the sport was unsustainable at the moment because of the high costs needed to compete.
It would also mean the grid being reduced to only 18 cars and would leave drivers Jenson Button and Rubens Barrichello without seats for the 2009 season.
E-mail to a friend