By Mike Steere
For CNN







LONDON, England (CNN) -- Few people get the chance to stroll the berths at super-yacht shows, so we've put together an exclusive photo gallery to show you behind the scenes at two of these ritzy events.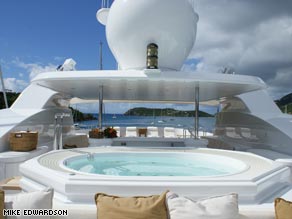 Rare view: Take a look around a super-yacht show and see inside some of the top vessels.
See the amazing interiors inside super-yachts, tour the berths, take in the scenery, and even have a look at the motor inside a classic super-yacht -- all from photos taken at the recent Antigua and St Maarten yacht shows.
Some of the world's most expensive boats and the world's richest people frequent these events -- here's your chance to take a look inside.

View the super-yacht photo gallery »
For more sailing news and features and to learn more about super-yachts, you can click here for the CNN MainSail homepage.
E-mail to a friend


COPYRIGHT © 2009 IPC MEDIA LTD. ALL RIGHTS RESERVED