By Mike Steere
For CNN

LONDON, England (CNN) -- Nine crew members aboard the French speed sailing trimaran l'Hydroptere were injured on Sunday when the boat flipped while traveling at more than 60 knots (over 110 kilometers an hour) off the southern coast of France.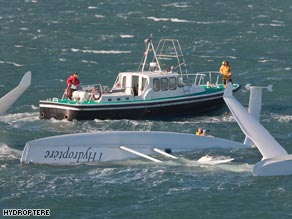 Capsized: French trimaran l'Hydroptere floats upside-down after flipping in high winds Sunday.
The boat, which is the world's fastest yacht over one nautical mile, has been trying to claim the world outright speed sailing record, which would require an average speed of 60 miles per hour (about 52 knots or 96 kilometers per hour) over 500 meters.
The current record is held by French kite surfer Alexandre Caizergues who managed an average speed of 50.57 knots.
Sunday's accident occurred in heavy wind gusts of over 45 knots off Napoléon beach at Port-Saint-Louis-du-Rhône, near Marseille.

View photos of the capsized boat »
A statement from the l'Hydroptere team said the nine crew members had sustained minor injuries when an unexpectedly strong squall hit the boat and capsized it. All of the crew had escaped serious injury and rescue crews on standby managed to pick them up from the water.
A spokeswoman from the team told CNN it was understood the mast may have been broken, which could put the boat out of action for several months.
• Read more about the intense race to become the fastest boat on the planet.
The team skipper Alain Thebault and his crew had organized for the trimaran to be towed to shore and moored in Fos sur Mer, before being put in dry dock to assess the damage.
The spokeswoman said conditions were too rough to remove the boat from the water on Sunday, so it was hoped this would be done Monday afternoon.
Despite the injuries, the crew were delighted to have achieved speeds of more than 60 knots, as it had confirmed the boat's potential, the spokeswoman said.
It was understood that no other vessels as large as l'Hydroptere had managed to pass the 60 knots barrier. Its top speed of 61 knots equates to about 112 kilometers per hour or 70 miles per hour.
E-mail to a friend