By Mike Steere
For CNN

LONDON, England (CNN) -- More than 260 people will spend Christmas Day held hostage at sea by armed pirates.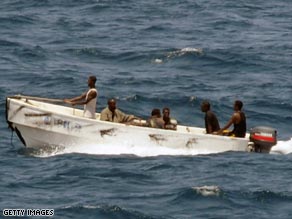 Christmas company: Over 260 crew face a Christmas with pirates like these, seen off the Somalian coast.
After a horror six months of pirate attacks in the waters off Africa, at least 14 vessels remain under pirate control ahead of the festive season.
Assistant director of the International Maritime Bureau (IMB), Michael Howlett, said the 268 crew members aboard the 14 vessels now faced Christmas at sea, away from their families.
Howlett told CNN the 268 people currently held did not include a number of crew members from two further Yemeni ships that are under pirate control, as they had not been formally reported to the IMB by their owners.
IMB figures for the year-to-date show the worst affected area has been off the coast of Somalia, where pirates have attacked almost 100 vessels and hijacked nearly 40.
It is likely the current hostages will be given little if any recognition of Christmas Day as many of their pirate captors are Somalian -- a predominantly Muslim country where Christmas is not celebrated the way it is in countries with a stronger Christian presence.
The crew members still under pirate control come from a number of countries, including a large section of Filipinos, with media in the Philippines reporting that 91 Filipinos are still being held in their ships.
Howlett said the number and style of the pirate attacks in 2008 had been "totally unprecedented".
Naval vessels from the European Union, China and Iran have since mobilized in the area to protect shipping routes, a move which Howlett says he is "pleased" to see.
At least one major company pulled its ships from the Gulf of Aden region this year meaning cargo bound for Europe had to round the African continent rather than use the Suez Canal.
Among the victims of pirate attacks have been cargo ships, oil tankers and luxury yachts.
Meanwhile, the 18 remaining contestants in the solo round-the-world yacht race, Vendee Globe, are also spending Christmas at sea this year.
Thirty sailors began the race in November, however, 12 have already had to retire due to boat damage and other technical problems. The most recent withdrawal was that of French yachtsman Yann Elies who was seriously injured and had to be rescued by an Australian Navy ship at the weekend.
The leader, Michel Desjoyeaux aboard Foncia, was in the Pacific Ocean to the south-east of New Zealand, about 60 miles ahead of his nearest rival at last report on Christmas Eve.
E-mail to a friend