By CNN World Sport's Pedro Pinto
(CNN) -- Euro 2008 is upon us and all the talk about who will win and who will be the star of the tournament has begun. Everyone seems to have an opinion, so why can't I?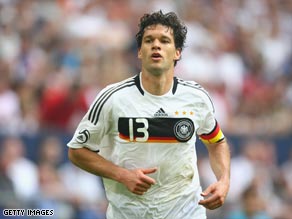 Pedro Pinto believes Germany captain Michael Ballack will be holding the Euro 2008 trophy aloft in Vienna.
To be honest, I am really looking forward to this tournament. It is so open that one could say at least half of the teams could capture the crown!
Especially after what happened four years ago with Greece lifting the trophy, who could count out teams like Croatia and Poland? Hey... anything is possible, right? Otto Rehaggel has even said that lightning could strike twice, alluding that his side could yet make another title run!
But back to my opinions. Here is an overview of what I expect to be the headlines of Euro 2008:
France fail to qualify for knock out stage:
Les Bleus are in the so called "Group of Death" and in my opinion they will not be able to survive. They had an unexpected run to the final of the World Cup two years ago, but without Zinedine Zidane, there will be no repeat of such a performance. They will struggle to score goals, and finish third in the group behind the Netherlands and Italy. Do you agree with Pedro? Have your say below
Co-hosts bounced out early:
Who's going to win?
CNN World Sport anchors and reporters make their predictions.

Pedro Pinto
Winners: Germany
Runners-Up: Netherlands
Top Scorer: Miroslav Klose (Germany)
Best Player: Michael Ballack (Germany)
No chance: Austria

Patrick Snell
Winners: Spain
Runners-Up: Portugal
Top Scorer: Cristiano Ronaldo (Portugal)
Best Player: Cristiano Ronaldo(Portugal)
No chance: Romania

Candy Reid
Winners: Croatia
Runners-Up: Spain
Top Scorer: Ivan Klasnic (Croatia)
Best Player: Iker Casillas (Spain)
No chance: Austria

OK, this isn't exactly revolutionary insight, but in my opinion, neither Switzerland nor Austria will make it past the group phase. The Swiss have shown signs of quality in warm-up games, but their squad is still not strong enough to finish ahead of Portugal or the Czech Republic in Group A. And then there is Turkey, who are also tough opponents. I see them finishing last in the group. As far as Austria is concerned, the outlook is equally bleak. With only three wins in their last 15 games heading into the tournament, they will really struggle to register any points in a group featuring Germany, Croatia and Poland. Maybe a draw against the Poles is possible, but I don't see them making it into the quarterfinals.

No Euro crown for world champions:

Winning the World Cup and European Championships back to back is no easy feat. France did it in 98 and 2000, Italy won't. The Azzurri are getting increasingly old and especially in defense they will struggle to keep up with teams who possess fast forwards. Andrea Pirlo and Gennaro Gattuso are still influential in midfield, but the loss of Fabio Cannavaro is a big blow and Francesco Totti is no longer around. Luca Toni will score a few goals, but I can't see Italy having enough depth to make it all the way to the final.

Germany reign supreme:

It's no coincidence the bookies have made Germany the favorites. This team has been growing into a formidable force and has reached the point of maturity necessary to win a major title. After narrowly missing out on the World Cup crown, players like Michael Ballack, Torsten Frings and Miroslav Klose are at the right time in their careers to deliver on the biggest stage. Ballack should be especially influential considering he missed the first half of last season and has fresher legs than many of midfield opponents. He was Chelsea's best player in the last month of the Premier League season. My final prediction? Germany beats the Netherlands in the final 2-1!

So there you have it. My last words are about Portugal, my native country. I would like to believe they could win it, but they still lack a top quality forward to finish all the chances their midfielders and wingers create. And Cristiano Ronaldo can't win all of the games on his own -- even if he is the best player on the planet!

E-mail to a friend