(CNN) -- Don't miss a goal during Euro 2008!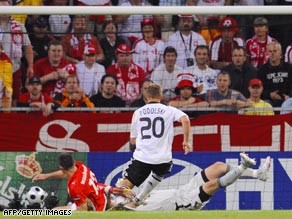 Get all the latest goals and match updates on CNN's Euro 2008 mobile site: http://cnnmobile.com/euro2008
Plus, the first 10,000 people to sign up will get FREE SMS goal and match alerts.
To subscribe, send a SMS to +447800001266 with your favorite team's country code as the message: AT, CH, CZ, DE, ES, FR, GR, HR, IT, NL, PL, PT, RO, RU, SE, TR.
To unsubscribe, send a SMS with text 'ALERTS STOP' to +447800001266.
For questions about the service e-mail help@cnnmobile.com
Visit http://cnnmobile.com for more details.
For terms and conditions, click here.
E-mail to a friend