(CNN) -- Croatia held off a furious late onslaught from Euro 2008 co-hosts Austria to win 1-0 in their opening Group B match in Vienna on Sunday.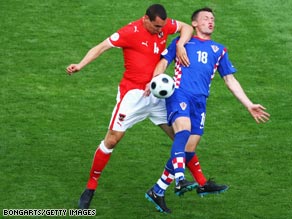 Emmanuel Pogagtetz, left, fouls Croatia striker Ivica Olic to concede the match-winning penalty.
The Croatians took the lead in the fourth minute when midfielder Luka Modric coolly slotted home from the penalty spot after Emmanuel Pogatetz clumsily body-checked striker Ivica Olic in the area.
Slaven Bilic's team dominated the first half, and should have gone further ahead in the 35th minute but Olic's strike partner Mladen Petric blazed over the bar with a left-foot volley after beating the offside trap to run on to Vedran Corluka's cross.
Austria's main threat had come from set-pieces, but they were not able to capitalize on a string of corners.
However, the home players kept battling in the second half and squandered a series of chances to level the score in the final 15 minutes.
Martin Harnik fired over the bar on 78 as Croatia scrambled to clear the danger, then substitute Ivica Vastic had a powerful header well saved by goalkeeper Stipe Pletikosa, who then kept out another low effort by the veteran midfielder.
Pletikosa also had to deny a driven shot from Umit Korkmaz, who also came off the bench, while another substitute in Roman Kienast flicked a header just wide from a free kick in the third minute of time added on.
Croatia went into the tournament as one of the outside bets, having qualified top of their group ahead of Russia with a victory away to England which eliminated the British team.
However, their chances of success were dealt a massive blow when top scorer Eduardo da Silva was ruled out of the tournament due to a broken leg.
None of Croatia's strikers managed to score in the warmup matches, and the Arsenal forward's goal-poaching ability was sorely missed on Sunday.
The winning goal came after Modric and Olic combined down the left wing from a throw-in, and Pogatetz clearly impeded the striker well away from the Austria goal.
The Middlesbrough defender was booked for protesting the referee's decision, but he could have no complaints with the ruling.
Austria are the lowest-ranked of the 16 teams at the tournament in 92nd place, but showed great courage against a 15th-seeded Croatia side stacked with attacking talent.
But they joined fellow co-hosts Switzerland in losing their opening match, following the Czech Republic's 1-0 victory on Saturday.
Croatia next play Germany on Thursday, when Austria take on Poland.
Coach Bilic was delighted to start with a victory, but was not so impressed with his team's performance.
"Some players were overwhelmed by playing at a great tournament but we started off with the best possible way -- with a win," Bilic told reporters. "In the first 35 minutes we played excellently, of course the early lead contributed to that.
"They exerted more pressure in the second half and I'm sure that is not to do with a lack of strength from our players. But we confined ourselves to our penalty area too early.
"The last 15 minutes or so when they play all or nothing, you can do that -- but we started in the 60th minute or so. I didn't think the players were happy when they got back in the dressing room. I turned on the CD player and said they should sing because they won."
Austria coach Josef Hickersberger was left frustrated by his side's failure to take their chances.
"This was the worst possible start you can have in an opening match of a major tournament," he said. "We took some time to recover, during the first 30 minutes we were nervous.
"For the rest of the match we were playing the way we should have been playing. We even dominated in the second half of the match. We had good opportunities but unfortunately we weren't able to score a goal, so we are empty-handed. In our remaining games we need four points to go through."
Austria: Jurgen Macho; Sebastian Proedl, Emanuel Pogatetz, Martin Stranzl; Joachim Standfest, Rene Aufhauser, Andreas Ivanschitz, Jurgen Saumel, Ronald Gercaliu; Martin Harnik, Roland Linz.
Croatia: Stipe Pletikosa; Ivan Corluka, Robert Kovac, Josip Simunic, Danijel Pranjic; Darijo Srna, Niko Kovac, Luka Modric, Niko Kranjcar; Ivica Olic, Mladen Petric.
E-mail to a friend

All About Croatia • Austria • European Football