(CNN) -- Greece's reign as European champions is over after Konstantin Zyryanov scored the only goal to give Russia a 1-0 victory over Otto Rehhagel's side in Salzburg.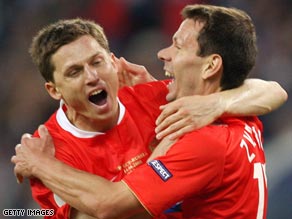 Zyryanov (right) celebrates his goal as Russia knocked out holders Greece in a tense match in Salzburg.
The Greeks needed at least a draw to stay in contention in Group D, but Zyryanov's 33rd-minute goal, combined with Spain's 2-1 win over Sweden, left the surprise 2004 winner with nothing to play for in their third and final match against Spain -- who finish top of the group.
Russia and Sweden are level on three points and they will battle it out next Wednesday for the second qualification place, although a draw would be enough to send the Swedes through.
Zyryanov's third international goal in 14 appearances came after a mistake by goalkeeper Antonis Nikopolidis, who chased a loose ball carelessly across his goalmouth.
Sergei Semak did well to acrobatically sent the ball back from where it came, leaving Zyryanov with an easy task to slot into an empty net from close range.
Greece nearly equalized in the 87th minute when Angelos Charisteas knocked the ball into an empty net, but Fanis Gekas had already been whistled for offside.
Greece became the fourth defending champions eliminated from the first round of the European Championships. Germany were knocked out at the same stage in both the 1984 and 2000 tournaments, while Denmark followed their remarkable run to the title in 1992 by going out in the first round in 1996.
The Greeks dropped their five-man defense from the opening match in favor of a more attacking formation. And even though the defenders were playing far more forward than usual, they failed to create any clear opportunities to score in the first half.
Don't Miss
The introduction of Giorgos Karagounis for the injured Giourkas Seitaridis late in the first half sparked some more forward movement, but most of Greece's chances were barely a threat to Russia and their goalkeeper Igor Akinfeyev.
"We couldn't convert our chances," said Rehhagel. "We had a couple but couldn't score -- that's the problem with Greek football. We're not a team that scores many goals. I had hoped we could score one tonight but it didn't happen.
"Back in 2004, a miracle happened, but that happens maybe every 30 years," Rehhagel added. "If it happened every week, it wouldn't be a miracle."
Russia, despite playing without the suspended Andrei Arshavin or the injured Pavel Pogrebnyak, still attacked relentlessly, with Roman Pavlyuchenko leading the way.
Pavlyuchenko had been doubtful for the match with a right thigh injury, but he started and had shots early in each half that Nikopolidis had to save, notably by tipping over the bar in the 14th.
Greece's best chance for a goal came in the 20th minute when captain Angelos Basinas sent in a free-kick. Charisteas missed a chance to head the ball from close range, but Igor Semshov almost scored an own-goal as the ball went off his foot and then his chest before just going wide.
As Greece piled forward, they left holes at the back. However, despite a number of opportunities on the break, Russia could not capitalize and had to settle for a 1-0 victory margin.
E-mail to a friend