(CNN) -- France will go into their crunch Euro 2008 Group C showdown against rivals Italy without captain Patrick Vieira after the Inter Milan midfielder revealed he was still troubled by his nagging thigh injury.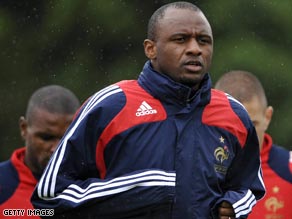 Vieira was expecting to be fit for France's final Group C match after tearing his left thigh in training last month.
Vieira had been hoping to take part in at least one of Les Bleus' group matches despite tearing his left thigh in training on May 30.
But he missed France's opening two games -- the goalless draw with Romania and the 4-1 defeat to the Netherlands -- and will now be absent when his team take on the Italians in a match they need to win to stand a chance of qualifying for the quarterfinals.
The 31-year-old is frustrated at not being able to help his teammates in their quest for a second-placed finish in the group, and admitted he was in the dark as to when he would return to action.
"Unfortunately there is not a lot of improvement," he said, when asked about the state of his thigh. "I can practise but I still feel pain and I can't accelerate or shoot through the ball.
"I am slightly irritated because I don't see any improvement. I knew I was not going to play in the first or second match but I was confident about the third.
"But the pain is still there and I can't tell you when I will play again. I am frustrated because I don't have the answers. I honestly don't know where I stand right now."
Although Vieira's presence and experience will be missed by the French in Zurich, whether he plays or not may not matter a great deal.
If Romania defeat group winners Netherlands in the other pool match in Berne, France and Italy -- the finalists in the 2006 World Cup -- will both be eliminated.
Conspiracy theorists claim the Dutch, in order to secure themselves a supposedly easier route to the final, will gift victory to the Romanians.
With Dutch coach Marco van Basten set to play his reserves, Romania, who have shown little attacking endeavor in their draws against France and Italy, will be favorites to clinch second spot and a last-eight clash against Spain.
However, Vieira is sure the game will be played in a fair spirit. "Our sport is healthy and I will always hope football remains a healthy sport, so I won't even start asking questions ahead of this match," he added.
"Both teams will go onto the pitch looking to win the game, like France and Italy have done in the past."
Don't Miss
However, Raymond Domenech was pessimistic as he faced the media ahead of what could prove to be his last match as France coach. "We have one match to play, with a very small chance of going through depending on the other match," he said. "We need to perform well, otherwise it is not even worth thinking about the other match."
As usual, Domenech was giving little away about his team selection. "There is one more night and one more day to go -- we will talk together and I will make a final decision on Tuesday," he added.
But he maintains whatever side he puts out will have to find a balance that has been lacking in their first two games. "We were criticised after the Romania match for being defensive, now we are getting criticised the other way," said Domenech.
"So I hope we can strike a balance. Obviously the result against the Dutch was disastrous, but the content was not. We have to work on that against Italy. It will be difficult but we are capable."
With Domenech likely to make some changes following the heavy defeat to the Dutch, the likes of Francois Clerc, Lassana Diarra and Karim Benzema will be pushing for starts after failing to appear off the bench against the Netherlands on Friday.
E-mail to a friend