By CNN's Pedro Pinto
(CNN) -- Luther Blissett remembers vividly what it was like walking out into an Italian stadium when he played for AC Milan in the early 1980s.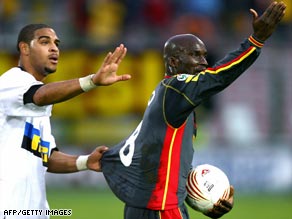 Ivorian defender Marc Zoro brought racism into the spotlight by walking off the pitch with the ball during an Italian match in 2005.
"You walk into a stadium and you literally were the only black face there," recalls the Englishman, who spent just one season with the Italian side. "There would be 40,000, 50,000 people in the stadium but you're the only one, and you're a target for them because you're different."
Many football fans would prefer to believe that such incidents belong to the past. Sadly, they would be mistaken. During a Spanish league match in 2006 for Barcelona against Real Zaragoza, Samuel Eto'o almost walked off the pitch after being taunted by supporters with racist chants, before being persuaded to return by his coach and teammates.
"In that moment you start thinking whether there is something wrong with being black, you know?" Eto'o says. "But I think we are all humans, everyone's blood is the same colour and we all have the same heart."
Two different generations of black players facing the same problem. It seems European football hasn't changed much over the last three decades. Racist abuse is still very much alive in stadiums across the continent, even if it comes from a small minority of fans.

Watch former Chelsea player Paul Canoville discuss how abuse scarred him for life »
"Racism in football exists," confirms Eto'o. "Not only in Spain, but in many countries."
The Cameroon striker has been a target for fans in La Liga matches ever since he moved to Spain in 1996. But as he says, the problem is not exclusive to one country. Is enough being done to tackle racism in football? Have your say
In Italy, abusive chants are commonplace and African players have been abused for decades. Right wing fan groups are the main culprits. The so called "ultras" have always resisted diversity. Former England coach Sven-Goran Eriksson admits there was a problem at Lazio when he coached the club from 1992 to 1997.
"At my last club in Italy we had some problems with fans, booing black players and things like that," Eriksson told CNN. "It's absolutely awful. It gives you bad publicity and you're ashamed. We had to fight extremely hard. All these things in football, it's bad for football. It's bad for people who are involved and it shouldn't exist."
Don't Miss
It shouldn't, but it does and former Messina defender Marc Zoro can vouch for that. The Ivory Coast international was repeatedly abused during his time in Italy and during one Serie A game, decided enough was enough, picking up the ball and walking off the pitch. The match was stopped for several minutes and Zoro eventually returned, but a point was made.
"When Zoro did what he did, people and media were wondering and talking about it. It was incredible, but he got the attention on the problem. Since then, things have improved a little bit," says Italian journalist Aurelio Capaldi.
A little but not enough and the overall opinion is that UEFA, European football's governing body, has been too lenient with offenders. In 2006, after England's black players were racially abused during a friendly against Spain in Madrid, the organization fined the Spanish football federation just 65,000 euros ($100,000). Later, Spanish officials themselves imposed a fine of only 9,000 euros ($13,800) on Zaragoza after the Eto'o episode at their La Romareda stadium.

Watch an iReport of an English footballer describing the abuse he has endured »
"The authorities are working to find solutions. But they must find them. We can't wait until some crazy fan jumps from his seat and kills a black player before measures are taken," says Eto'o "If they are working, they must work faster. Has it improved? Honestly, in many stadiums, it's the same, they keep doing monkey chants."
Playing against Prejudice
They face hostility both on and off the field. It's not about their performance - but rather the color of their skin. Join us for a CNN special that examines the difficult issues of race and prejudice that still linger in international sport.
Sat. June 21: 0630, 1430, 1930, Sun. June 22: 0630 (all times GMT)
Keir Radnedge of "World Soccer" magazine says the only way to tackle racist abuse is to punish the clubs or countries of offending fans by kicking them out of major competitions.
"That may sound like rough justice but frankly until you get action of that headline-building magnitude then I think it will not come home to a lot of people that here is a serious issue that has to be dealt with," he told CNN.
UEFA says it takes the problem seriously -- running anti-racism campaigns during major tournaments. Presently, at Euro 2008, there are "Unite Against Racism" billboards at every stadium. The same message is printed on all tournament tickets and players wear a "Respect" patch on their shirts as part of a new campaign.
"We have a great campaign about respect, about differences between people and we do a lot for this campaign," UEFA President Michel Platini told CNN. "Then we have always a responsibility to be tough with the people and clubs that put racism on the field.

Watch Platini speak out on the problem of racism in football »
"But in the other part, society is society and football is society and I can't put a policeman behind every person and say that he can't be racist. It's complicated because it is a fact of culture of dedication, and I don't think FIFA or UEFA can change this. But we can make big campaigns to explain to people that there are no differences. However it is not a problem of football, it is a problem of society."
But a problem nonetheless. And football has to play its part in banishing racism among players, coaches and fans alike.
E-mail to a friend