(CNN) -- Aston Villa have disciplined England international midfielder Gareth Barry and banned him from pre-season training.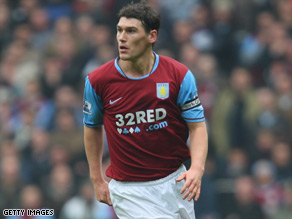 Barry wants to join Liverpool because he is keen to play Champions League football.
Barry, who is keen to move to Premiership rivals Liverpool, criticized Villa manager Martin O'Neill in a recent Sunday newspaper.
O'Neill said on Wednesday that there was no truth in reports that Liverpool had made a fresh $29.8 million offer for the player.
"The situation remains the same, said O'Neill, adding: "Gareth will not be returning to training tomorrow and he has been disciplined after giving an unauthorized interview to the News of the World."
In the interview Barry said: "It's seven weeks now since the season finished but while the gaffer found time to be a pundit for the BBC at Euro 2008, he hasn't found time to speak to me.
"The last time we spoke was just after England's game in Trinidad at the start of June -- and that's it.
"It just made me think that the gaffer and the club were just saying one thing in public but were not bothered about me at all in private. What other conclusion can you reach?"
O'Neill has responded by saying: "The chairman and I were surprised at Gareth's comments. Contrary to what he said, we desperately wanted to keep him -- and he knows that."
Barry has spent 10 seasons with Villa but says he wants to play Champions League football.
O'Neill has accepted the idea of losing Barry but insists that Villa will not accept less than$35.8 million.
The decision not to involve Barry in training will enable Villa to prepare for the Intertoto Cup without the intensive media attention that would occur if he was present.
E-mail to a friend