LONDON, England (CNN) -- Chelsea have rejected an approach from Inter Milan for England midfielder Frank Lampard -- the Premier League club confirmed on Tuesday.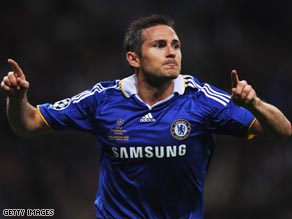 Chelsea say they have rejected an approach from Inter Milan for England midfield player Frank Lampard.
A statement on the club's Web site said: "Chelsea can confirm we have received an official approach from Internazionale to discuss the possible transfer of Frank Lampard. Contrary to reports no financial offer was made.
"Chelsea has informed Inter this morning that we will not enter into any discussions regarding the transfer of Frank Lampard."
Chelsea's response came as new manager Luiz Felipe Scolari met the media in his new capacity for the first time since leaving his job as coach of the Portugal national side.
Scolari this week met Lampard for the first time and explained in English: "I spoke to him that I like him much as a player and as a person and I ask him if he wants to stay at Chelsea, not only for this season but for more time.
"After 15 minutes, he said to me he wants to stay and play for Chelsea for many years. I think Chelsea needs Lampard. I think Lampard is with us more time than one year."
Scolari also made it clear that he wants striker Didier Drogba to stay "200 per cent" and confirmed that England central defender John Terry will remain the Chelsea captain.
Scolari, who said he had previously voted for both AC Milan target Drogba and Terry in FIFA's world player of the year poll, added that he had already seen Drogba at Chelsea's training ground. "I saw him happy," Scolari said.
He has already made Portuguese midfielder Deco his first signing and also have the likes of Germany captain Michael Ballack and Michael Essien vying for a place alongside Lampard.
The 30-year-old Lampard has one year left on his contract and Serie A Inter are keen to reunite the player with former Chelsea manager Jose Mourinho who recently took charge of the Italian club.
Inter official Ernesto Paolillo said on Monday that the club are trying to reach a deal with Chelsea. "Lampard is one, just one, of our targets," Paolillo said.
"If he comes he will be welcome. Of course it is always a question between quality and price. If it is not possible to reach Lampard we will try something else."
Mourinho, who was recently hired to replace Roberto Mancini at Inter, coached Lampard for three seasons at Chelsea.
Inter are reportedly willing to pay a 10 million euro ($15.7 million) transfer fee for Lampard and are ready to offer him a four-year contract worth 7.5 million euros ($11.75 million) per season.
Lampard played 62 games for the London club last season. In December 2005, a virus forced him to break a record streak of 164 consecutive games played in the Premier League.
However, England fans have been frustrated by Lampard's performances for the national team, where he struggles to make an impact alongside Liverpool's Steven Gerrard.
E-mail to a friend