(CNN) -- David Beckham will join Italy's AC Milan for two months next year to get in shape for forthcoming matches with the English national team, the Serie A club and Beckham's agent said on Wednesday.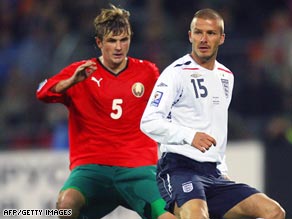 David Beckham, right, won his 107th international cap in England's 3-1 win away to Belarus.
Beckham, 33, will return to the Los Angeles Galaxy after his stint with AC Milan, his agent, Simon Olivera told CNN.
Beckham still has three years on his contract with the Galaxy, where he is a midfielder.
"He will stay at Milan on loan for a couple of months," Adriano Galliani, president of AC Milan was quoted on the club's Web site.
"He will play for a couple of months and then leave."
The move marks a return to European football for Beckham, who previously played for Manchester United in England and Real Madrid in Spain.
He signed with the Galaxy in January 2007 in a money-spinning five-year deal which stunned the football world.
Don't Miss
"I will be pleased to have him," said AC Milan Manager Carlo Ancelotti. "David Beckham is a serious athlete (and) a great professional."
Beckham continues to play for England where he hopes to break the record for most international appearances.
The midfielder currently has 107 caps to his name, one less than the current record for an outfield player, Bobby Moore.
Goalkeeper Peter Shilton won 125 caps.
Because the Major League Soccer season in the United States only runs until October, Beckham wanted to find a way to keep fit before England resume World Cup qualifying matches in March.
In recent matches, England coach Fabio Capello has used Beckham sparingly as a substitute but he has impressed in his short time on the field during a perfect start to their qualifying campaign.
Beckham's prospective loan move was later welcomed by leading players in Serie A.
"We all know he is a great champion," said Udinese's Italy striker Antonio di Natale.
"He will have no problem playing in our league, the league will be even better with him playing in it. We look forward to seeing him."
What do you think about Beckham moving back to European football? Tell us below in the Sound Off box.
E-mail to a friend

All About David Beckham • AC Milan • Los Angeles Galaxy • European Football • Major League Soccer