(CNN) -- Diego Maradona will be confirmed as the new coach of South American powerhouses Argentina next week.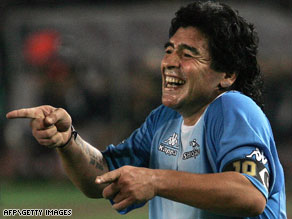 Maradona has been offered the chance to lead Argentina's bid for a place at the 2010 World Cup finals.
Maradona, who is 48 on Thursday, was offered the job at a meeting with Julio Grondona, the head of the Argentina Football Association, on Tuesday in Buenos Aires.
Maradona will have the assistance of former Argentine coach Carlos Bilardo, who will act as team manager, when the appointments are made official next Tuesday.
The football legend faced competition for the job from Carlos Bianchi, the former coach of Boca Juniors, San Lorenzo coach Miguel Angel Russo and Sergio Batista who took the Under-23 squad to Olympic gold in Beijing in August.
After the meeting, also attended by Bilardo, Maradona went on the local media to give strong hints he would accept the offer to take charge.
Maradona told Fox Sports that "my path is with the national team ... my path is to speak with the players, try to put together a solid group with Carlos."
"Now we're just awaiting for it to be official. The idea is to get started right away when it becomes official.
"I'll put together the team, I'll choose the players and I'm sure Carlos will take care of a ton of other things.
"For me, this only compares to the birth of my two daughters" Dalma and Giannina, he added.
Manchester United forward Carlos Tevez was the first Argentine player to congratulate Maradona on his new post. "What can be better motivation for a player than to have Diego as a coach?" Tevez said.
Barcelona star Lionel Messi also welcomed the expected appointment even though he was recently criticized by the football great as being too selfish a player.
"Those are things that you say at the time. I know Diego appreciates me and I don't hold any grudges," Messi said in an interview with the Gazzetta dello Sport on Wednesday.
"There's no problem. He's a great and I admire him for what he gave to Argentine football."
Born in 1960 in Villa Fiorito, Maradona went on to almost single-handedly take his country to World Cup Final glory in 1986 and then back to the final four years later where they were beaten by West Germany.
As well as leading unfashionable Napoli to two Italian League titles and breaking the world record transfer fee when he joined Barcelona in 1982, Maradona went on to become regarded as perhaps the greatest footballer who ever played the game.
Maradona is best known for his two goals in the 2-1 victory over England in the quarterfinal of the 1986 tournament.
The first was the "Hand of God" goal when he punched the ball beyond goalkeeper Peter Shilton and the second was a "Goal of the Century" contender in the shape of a spectacular 60-metre weave through six England players.
Off the field he has battled major drug addictions, massive weight gain and erratic behaviour but recently returned to prominence hosting a popular Argentine television show.
With his drug problems behind him, Maradona is prepared to begin a new chapter in his life.
He may be inexperienced in a coaching role, having failed in brief stints with Argentine teams Deportivo Mandiyś and Racing Club during the mid-90s. But his track record speaks for itself.
"I will fight to become the national-team coach until the last minute" Maradona insisted recently.
"The opportunities are there, my chances are still intact. I will have to put together my coaching team to compete with the other candidates. I'm fully devoted to the cause, and if necessary I will get to work at 8 in the morning."
E-mail to a friend