(CNN) -- Football legend Diego Maradona has been officially confirmed as the new coach of the Argentina national side.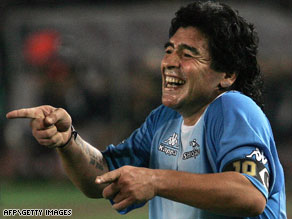 Maradona will get the chance to test his coaching credentials at the highest level.
Julio Grondona, the president of the Argentinian Football Association, made the much-anticipated announcement in Buenos Aires on Tuesday.
"Today is a special day for Argentinian football," said Grondona.
Maradona, 48, will be assisted by former Argentina coach Carlos Bilardo, who will act as general manager.
Maradona's first match in charge wil be a friendly against Scotland in Glasgow on November 19.
He then faces a tougher task in making sure Argentina qualify for the 2010 World Cup finals from the South American group.
"It's an honor," Maradona said.
"It's a dream come true. I'm going to give it my all to make sure that things go well. We're going to work everyday so that Argentina has a national team that keeps getting better and better."
Maradona wasted little time in stamping his authority in his new job, announcing that Liverpool's Javier Mascherano would replace Javier Zanetti as captain of the Argentina side.
"I want Mascherano to be my captain because I believe he is the Argentinian player who is closest to the idea I have about the Argentinian shirt -- sweat for it, sacrifice for it, being a professional, being close to the teammate," he said.
News of Maradona's likely appointment broke last week after a meeting with Grondona and in subsequent media interviews it became clear that he was going to take on the job.
Maradona told Fox Sports that "my path is with the national team ... my path is to speak with the players, try to put together a solid group with Carlos.
"I'll put together the team, I'll choose the players and I'm sure Carlos will take care of a ton of other things.
"For me, this only compares to the birth of my two daughters" Dalma and Giannina," he added.
Maradona's well-publicized off-field antics make him a controversial appointment, despite the hero worship status he enjoys in Argentina after almost singlehandedly leading them to the 1986 World Cup in Mexico.
They were beaten four years later by hosts Germany in the 1990 final.
Maradona also played in the 1994 World Cup in the United States, but was sent home in disgrace after a positive drugs test.
It was a sad end to a glittering career which saw him lead unfashionable Napoli to two Italian League titles.
The world transfer record was broken when he joined Barcelona in 1982 and he went on to be regarded as perhaps the greatest footballer who ever played the game.
Maradona is best known for his two goals in the 2-1 victory over England in the quarterfinal of the 1986 World Cup.
The first was the "Hand of God" goal when he punched the ball beyond goalkeeper Peter Shilton and the second was a "Goal of the Century" contender in the shape of a spectacular 60-metre weave through six England players.
Critics say he is inexperienced in a coaching role, having failed in brief stints with Argentine teams Deportivo Mandiyś and Racing Club during the mid-90s, but Grondona defended his appointment.
"We have the security of excellence," he said.
E-mail to a friend