By Greg Duke
For CNN

LONDON, England (CNN) -- Our recent feature on great club derbies really got you talking, so we have decided to carry on with that theme and highlight our top 10 international rivalries -- which are in no particular order!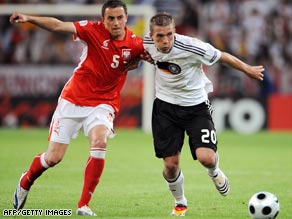 History on and off the pitch has made any Germany-Poland clash a bitterly faught rivalry.
From relatively recent spats, to cultural divides that go back over centuries, these countries just can't seem to get along and it always comes out when their football teams meet.
Do you agree with our list? Is there one we've missed out? Let us know in the Sound Off box below.
1) England v Scotland
Despite both countries being part of the wider United Kingdom, a major football rivalry exists between the pair. This is the oldest international derby in the world, first played in Glasgow in 1872, and 135 years later, there has been no let-up in the passion.
Their close proximity has contributed to the intense nature of matches, although the annual fixture between the countries was cancelled in 1989, while Scottish nationalism has undoubtedly played a major factor in proceedings -- with England being referred to as the "Auld Enemy". Despite England being perceived as the more successful football nation, in 110 matches between the teams, Scotland only trail by four wins.
2) Argentina v Brazil
Although politically there is no tension between the pair, their standing as the elite nations in South American football ensures that this rivalry is as hot as any other in the world. It is impossible to split them in terms of football talent and results. Since they first crossed swords in 1914, Brazil lead 35-34 in terms of victories and although Brazil have won five World Cups to Argentina's two, the Argentines have claimed an impressive 14 Copa America's as well as two Olympic titles.
Matches between the pair have often courted controversy, with dismissals and contentious decisions par for the course, not-withstanding the age-old debate of who was the greater No.10 -- Pele or Maradona.
Don't Miss
3) Germany v Poland
The German-Polish football rivalry stems from the two nations' troubled political history, namely Nazi Germany's invasion of Poland, which sparked the Second World War. In fact, you can go back to the early 15th century, when the Teutonic knights from Prussia were defeated by a Polish-Lithuanian army, as a period when hostilities really took over.
On the pitch, Germany have always had the upper hand, with Poland never having beaten its neighbor. The rivalry is so great that prior to their Euro 2008 clash, Polish national newspaper Super Express provoked outrage in Germany by depicting Poland coach Leo Beenhakker clutching the severed heads of captain Michael Ballack and coach Joachim Loew.
4) Mexico v United States
There is a lot at stake when these two nations collide, most notably to see which one is the stronger in the CONCACAF confederation they both represent. Mexico have traditionally been seen as the more dominant country and because of the way World Cup qualification is set-out, Mexico always reach the final stages. However, in recent seasons the United States have taken the sport far more seriously and are also regular World Cup finalists -- therefore rivaling Mexico as the dominant power in the region.
Add in the history of the Alamo and Mexicans' perceived grievances as to how they are treated as citizens within the U.S. and you have a cocktail of ingredients fit to rival most national derbies.
5) Croatia v Serbia
Years of ethnic violence between these former-Yugoslav nations means that they hate each other's guts and, although fairly new in football terms, the bitterness between them transcends far further than the pitch and even the region.
Naturalized Croats and Serbs regularly come to blows at Australian football matches and, in scenes never before witnessed in such a genteel sport, up to 150 people in national football tops were ejected from the Rod Laver Arena during an Australian Open tennis match in January 2007 after starting a mass punch-up. Now that is what I call national rivalry!. Throw in the Bosnians as well, and its best for all concerned that these countries are kept apart in qualifications groups.
6) Greece v Turkey
Long-standing rivals on and off the pitch, this particular "derby" would not have registered much interest outside the two nations themselves not so long ago. However, things are completely different now as they continue to punch above their weight internationally. Greece famously won Euro 2004, while Turkey followed-up their World Cup semifinal appearance in 2002 by reaching the last four of Euro 2008.
There were fireworks also when both teams were paired together in Euro 2008 qualifying, with Turkey's 4-1 Athens group win not received well in Greece. Add into the mix the age-old dispute surrounding Cyprus, and its no surprise this makes the top 10.
Sound Off
7) Nigeria v Ghana
Although both nations are not the force they used to be in African football, this continues to be the biggest rivalry in the continent. The divide is not limited to just football, but to culture; economy; and social standing in west Africa.
Although politically the nations have locked horns on a few occasions, there is no real animosity between the sides, or indeed the supporters, who enjoy healthy banter rather than downright hostility.
8) Spain v Portugal
This is an ancient rivalry off the pitch, which can be traced back to the Middle Ages, when Philip II of Spain took it upon himself to become Philip I of Portugal -- before that particular dynasty was overthrown. Portugal borders Spain on the Iberian Peninsula, and have always been seen as the less dominant neighbor.
Both have a history of under-achieving in major finals, but Spain are now basking in the glory of being the top nation in world football, much to their rivals' chagrin. Four years earlier, Portugal hosted the Euro finals and prior to their clash with Spain, coach Luiz Felipe Scolari declared: "This is war, and I have to kill and not be killed." Portugal won 1-0 and Spain were eliminated.
9) Chile v Peru
Peru and Chile have a rivalry that dates back to the War of the Pacific, although prior to that the two nations had shared mutual alliances. However, historical feuds and lingering bitterness have led to a large football rivalry, even though both nations are the poor relations in the grand scheme of South American football.
Remarkably both also believe they were the first to invent the overhead "bicycle kick." Chileans believe the technique was first used in a match in 1914 and term it "La Chilena" while Peruvians claim the move -- known as "La Chalaca" -- was first attempted in the Peruvian port of Callao in the late 18th century!
10) Denmark v Sweden
The Scandinavians are not renowned for their passion, or if they are, they keep it nicely controlled. However, there is something about this fixture that gets the blood bubbling on both sides.
First played in 1913, the fixture has witnessed numerous controversial incidents down the years, none more so than in qualifying for Euro 2008. A remarkable match in Copenhagen saw Denmark recover from 3-0 down to draw 3-3 before the referee awarded the Swedes a last minute penalty. This was too much for an enraged Danish fan who ran onto the pitch to confront the referee, who promptly abandoned the match. UEFA took a dim view and awarded Sweden a 3-0 victory. The Swedes qualified for the finals...Denmark didn't.
E-mail to a friend