(CNN) -- Loan star David Beckham has arrived at the San Siro clutching his club shirt and was told he could start AC Milan's next match against Roma in the Italian capital on January 11.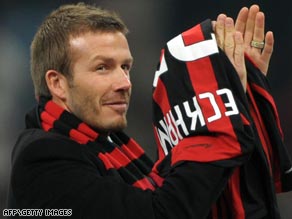 Beckham applauds fans at a half-empty San Siro Stadium following his arrival for a three-month loan.
England midfielder Beckham has joined the Rossoneri for three months from Los Angeles Galaxy and was a spectator on Sunday night when they thrashed Udinese 5-1 in a Serie A clash.
Beckham hopes that his Italian job will help reclaim his place in Fabio Capello's England squad that is firmly on course for a place at the World Cup finals in South Africa.
He currently has 107 caps and needs one more to equal the 'outfield' record held by Bobby Moore who held aloft the Jules Rimet trophy in 1966.
Milan coach Carlo Ancelotti insists Beckham will come into contention for a starting berth when his side resume after the winter break.
Club vice-president Adriano Galliani agreed saying: "Beckham is in good physical condition. He will be here with us for nine Serie A games and will also play some friendlies.
"We will then consider whether or not to include him in our UEFA Cup squad because eventually he would only be able to play up to the first and second leg of the last 16 of the competition.
"We will make this decision by the end of January."
Milan have been paired with Werder Bremen in the last 32 of the UEFA Cup with the two-leg tie to be played in February.
Beckham is set to return to the U.S. at the end of March to prepare for the start of Major League Soccer and would be unavailable from the quarterfinal stages on in Europe.
The former Manchester United and Real Madrid maestro officially becomes a Milan player on January 7 and now looks set for his debut four days later.
"Certainly there is a place for him because he is a great player," Ancelotti told PA Sport on Sunday. "He is very well-prepared tactically and he can give a contribution to this team.
"He is in good condition and if he is one of the 11 names on the team sheet, then it is because he deserves to be there.
"I met with him this morning and he has been welcomed very well. We are all delighted to have him here. We are all happy because what we have got is a great professional."
Beckham's 'presentation' at the San Siro prior to kick-off was a rather low-key affair as he strolled on to the pitch to mutter the words 'Forza Milan' to a half-empty stadium.
He will now get to know his new colleagues at a training camp in Dubai.
E-mail to a friend