(CNN) -- Golf legend Seve Ballesteros is in a "stable" condition after a third operation to remove a cancerous brain tumor at La Paz Hospital in Madrid on Friday.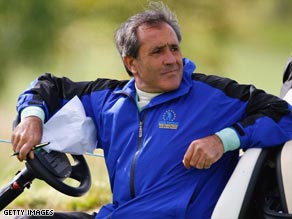 Ballesteros said he faced the "hardest challenge of my life" after being diagnosed with a brain tumor.
In a statement released to CNN, the hospital said the near eight-hour long operation had been completed with "no complications" and that the remaining remnants of the tumor had been successfuly removed.
Three neurosurgeons led the team operating on Ballesteros.
He entered theater at 8:30 am Madrid (2:30 am ET) and the surgery began two hours later.
It was completed at 1700 pm Madrid (1100 am ET) before Ballesteros was returned to the intensive care unit.
The tumor was classified as an oligoastrocytoma, a type that affects "cells that cover and protect the nerve cells in the brain and spinal cord," the hospital confirmed in an earlier statement.
Ballesteros was admitted to the hospital late on October 5. He underwent a first operation on October 14, when a sizable part of the tumor was taken out, the hospital press office told CNN.
In a second operation, on October 16, a part of his skull was removed -- a procedure known as decompressive craniotomy -- to allow room for a swelling brain to expand, the hospital told CNN. Doctors said it was not uncommon after such complex operations.
Ballesteros, who won three British Opens and two Masters titles, briefly lost consciousness while at Madrid's international airport on October 5.
In a personally signed statement from his hospital bed, Ballesteros said he faced the "hardest challenge of my life."
Ballesteros, who won a record 50 tournaments on the European Tour, retired last year because of a long history of back pain and has since concentrated on golf course design.
Ballesteros transformed European golf. After the Ryder Cup was expanded to include continental Europe in 1979, Ballesteros helped beat the United States in 1985 to begin two decades of dominance. He also captained Europe to victory in 1997 at Valderrama, Spain.
Ballesteros and Jose Maria Olazabal made one of the most formidable partnerships in Ryder Cup history, with 11 wins, two losses and two halves.
E-mail to a friend

CNN Madrid Bureau Chief Al Goodman contributed to this report.